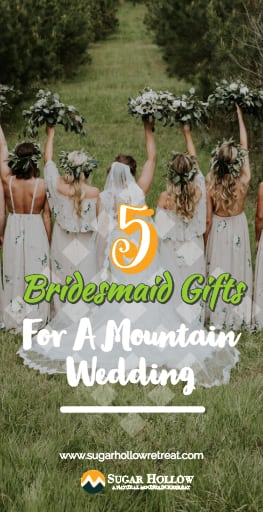 You've made the decision to break from the traditional banquet-hall wedding and have yourself an amazing mountain wedding.
This includes asking your bridesmaids to not only be heavily involved in your wedding but to make a trip to the Appalachian Mountains. It's a big deal to include these women on your life's journey.
Why not show them how much you truly value them?
What better way to say "thank you for flying out here for the biggest day of my life.", than giving your girls some fun and unique gifts. It's a kind, thoughtful gesture and your bridesmaids will adore you for it.
Here are a few gift ideas to get you started:
Floral Bridesmaid Robes
Want the look and feel of a girls' spa day? Get your bridesmaids some floral or lace bridal robes. They don't have to match, but they do have to be comfy and cute. They're great to wear during your pre-wedding preparation or even just lounge around in.
Soothing Bath Bombs
A perfect gift to give your girls is a tropical bath bomb. It's a great gift for a sunny, mountain wedding. Just slip some lavender bath bombs in a gift basket and your bridesmaids will be forever grateful. Nothing more relaxing than a tropical bath bomb to sooth the body before the big day.
Matching Monogram Hats
Nothing says "team" like a bride and her bridesmaids. It's an unbreakable bond between women and their soon-to-be married friend. So what better way to show you're part of a squad than by getting matching monogram hats. They're an adorable accessory that can be worn before and after the big day. Stand out with stylish sparkly sequin initials!
Plus it's a practical gift for your outdoor, mountain wedding!
THE Bridesmaid Gift Box
If you plan to go big and spoil your girls, the gift box is the way to go. It's the complete "thank you" gift. Put together your own customizable box and see your bridesmaids faces light up when you hand it to them.
You don't need to overload the box with lots of items either. Three or four works fine.
For example, here are a few ideas:
Personalized glass jewelry box
Knot bridesmaid earrings
Lavender travel-sized candle
Tiny initial necklace
Cute hair ties
Lotion
Elegant nail polish
Personalized thank you notes for each bridesmaid
Personal Fuzzy Slippers
Every mountain wedding should automatically come with a pair of these. Tell your bridesmaids "thank you" by providing cute and comfy. Get some fleece slippers and personalize them with names and/or nicknames for each one of your girls.