Mountain weddings are becoming more popular, and for a very good reason: that breathtaking mountain aesthetic. 
When two people are in love, they naturally want to express that love in the most beautiful way possible – and what could be more beautiful than standing on top of a mountain, surrounded by all of nature?
There is hardly a more perfect way to immortalize the way you feel about your spouse on your wedding day than with a wedding photo on top of a beautiful mountain.
The natural surroundings are a perfect backdrop for couples who want to celebrate their love story in a truly unique way.
Another great thing about having a mountain wedding is that there are so many different options for venues and things to do.
You can get married at the foot of a glacier, in front of a waterfall, or on top of a peak with stunning views all around you.
Though it is something that so many want to do, attempting to capture the beauty of mountains in wedding photos and succeeding in creating a stunning shot that evokes feelings of peace and serenity can be a difficult but not impossible task.
Here are 9 mountain wedding photos that will inspire you to go out and find the perfect spot for your own special day along with some tips to help you along!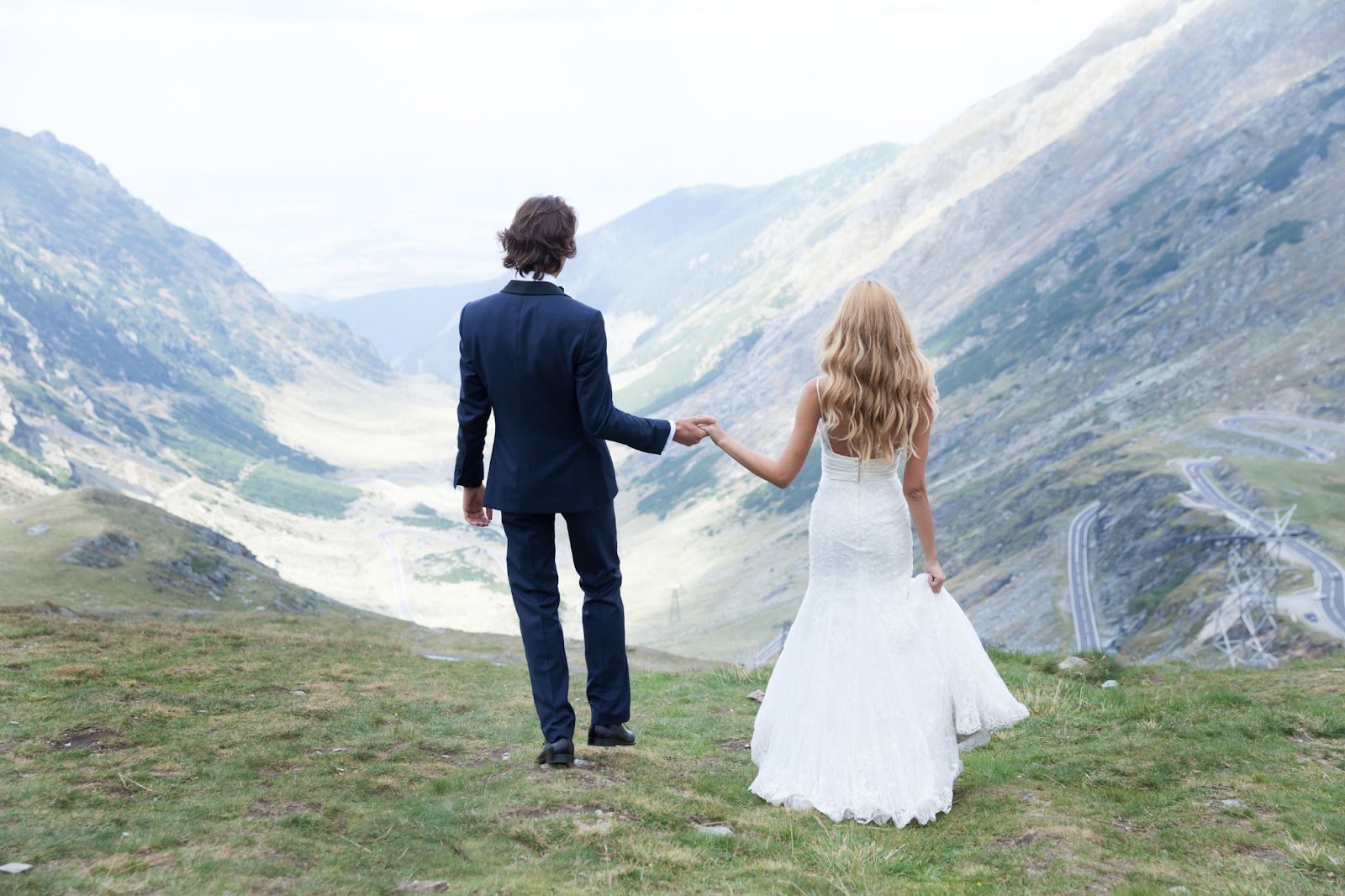 What To Consider When Planning Your Mountain Aesthetic
There's a lot that goes into the perfect mountain aesthetic for the perfect wedding photo and there are several things to consider.
It's important to not get too bogged down in all the possible details and variables though so as not to stress yourself out or miss the forest for the trees.
A wedding with a mountain aesthetic can be incredibly beautiful, with a beauty that is unmatched by any other setting.
However, there are some other things to keep in mind when planning a wedding in the mountains besides just the breathtaking scenery and backdrop of your chosen location.
Location
When planning a mountain wedding, it's important to consider the location.
Unique wedding photos that capture the scenic beauty of your wedding day will be a cherished memory for you and your guests.
You'll want to choose a spot with a picturesque view that will make your wedding photos extra special.
Not all mountains are created equal, and not all locations within mountains are suitable for weddings.
Make sure you choose a spot with a view that will take your breath away and is likely to impress your guests but also choose a spot where everything and everyone required for your wedding can physically be set up.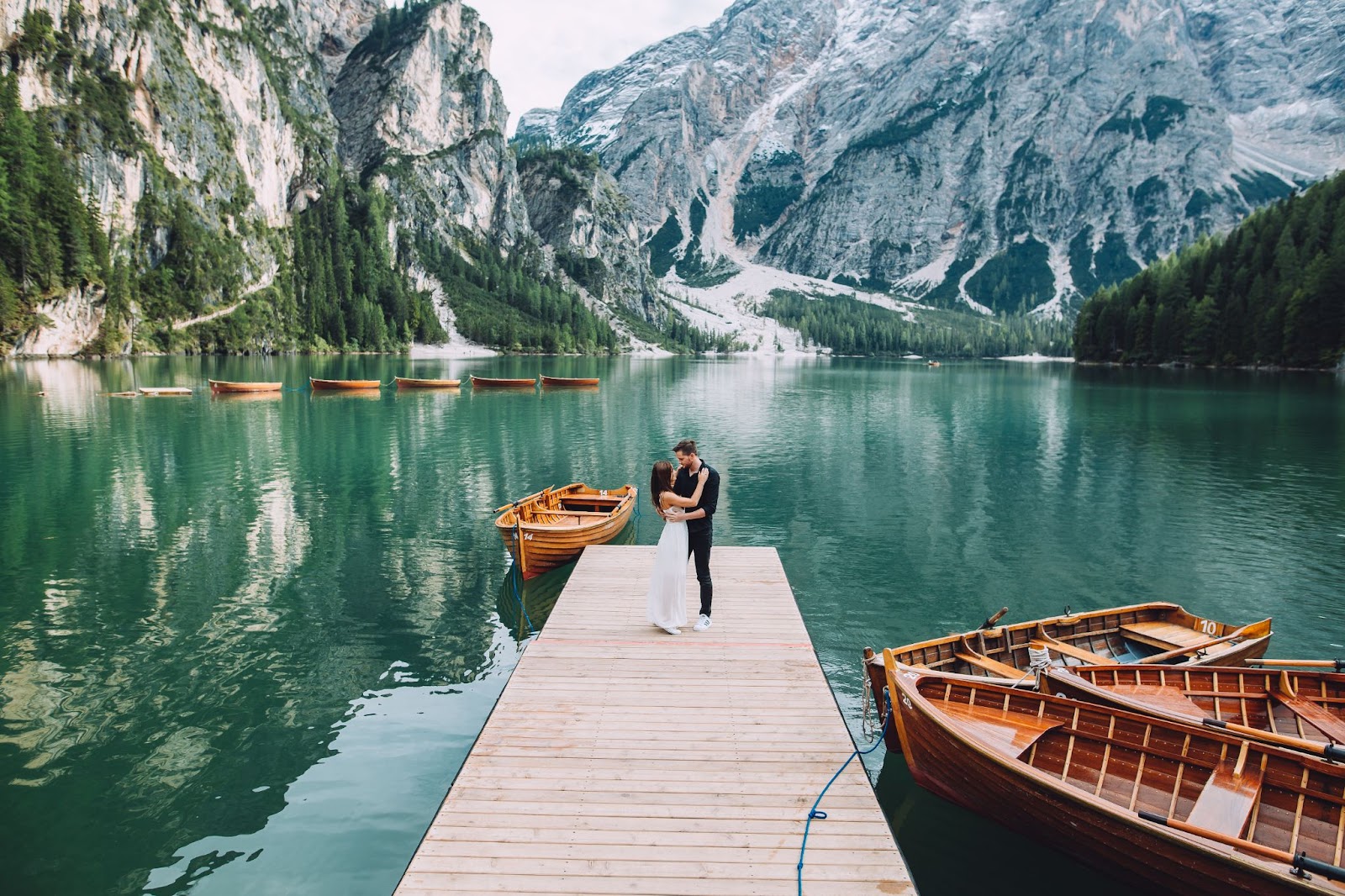 Time Of Year
Another factor to consider is the time of year.
If you're hoping for snow-capped peaks in the background, you'll need to plan your wedding for late autumn or winter and, as we mentioned previously, you'll want to plan it in a location that actually gets those snow caps in the winter.
Many people choose to have winter weddings in the mountains because of the stunning scenery and lack of crowds.
Snow-capped winter mountains can be an ideal backdrop for a wedding and wedding photos, but so can those same mountains during warmer months when all the flowers are in bloom or during autumn when the leaves are changing color.
A mountain aesthetic changes a lot from season to season and some of those seasons are shorter in some latitudes than in others, so timing is a very important factor to consider.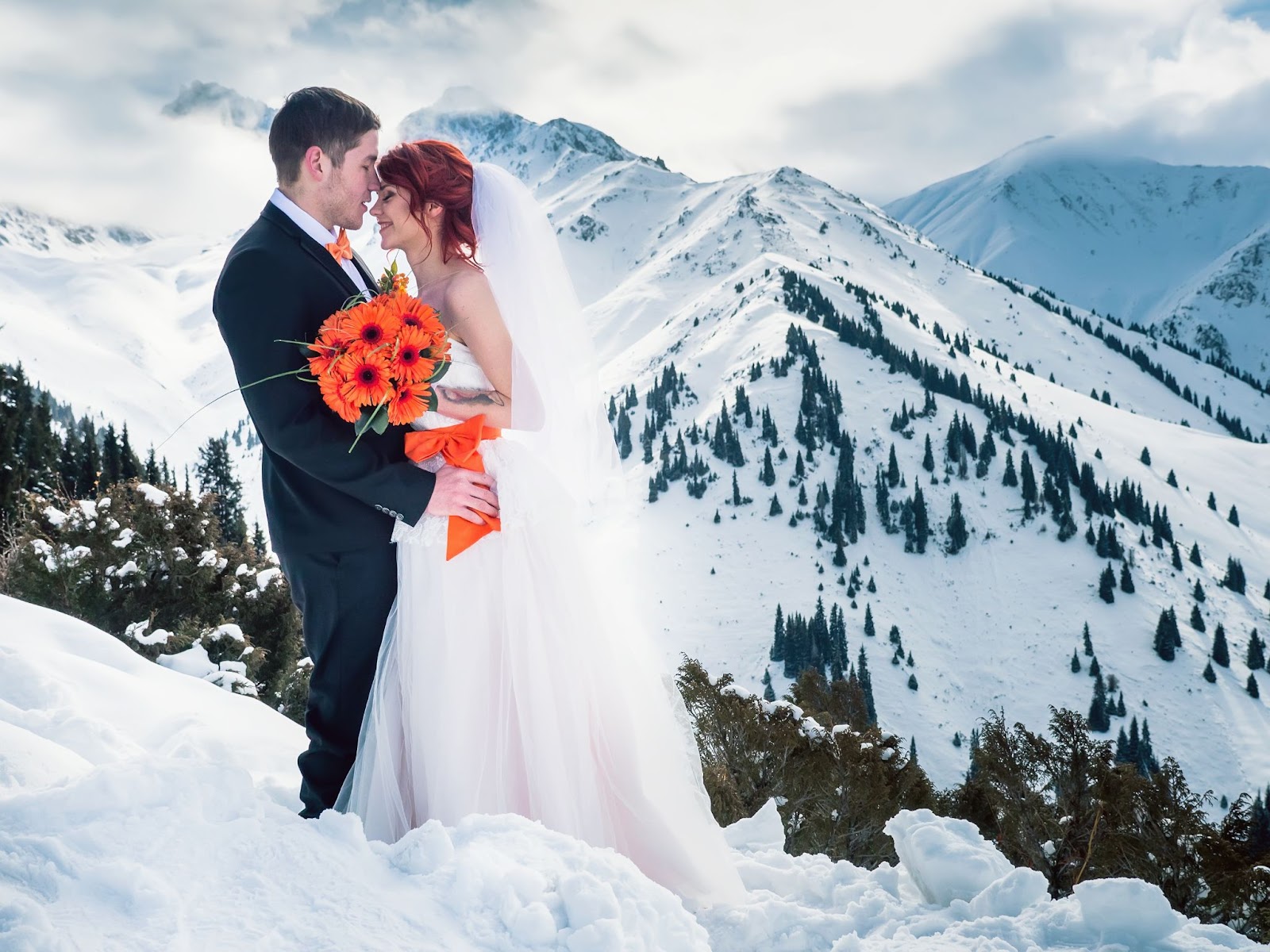 Weather
And finally, be sure to take into account the weather conditions in the area.
Mountain weddings can be quite chilly, so be sure to dress and pack appropriately.
Also be sure to tell your guests to do the same, especially if they are from lower altitudes and/or warmer climate zones and are not used to cold winters or high altitudes.
You don't want your cousin to fly up to Oregon from Louisiana in the winter bringing only a light jacket and athletic socks because that has never not been enough for them and they simply don't know how to properly dress to stay warm in winter.
Additionally, be aware of the potential for bad weather.
Mountain weddings can be susceptible to wind, rain or even snowstorms, so make sure you have a backup plan if necessary.
Just like how the seasons change fairly quickly in the mountains, so too do the daily weather conditions and the weather might vary quite a lot within a single day.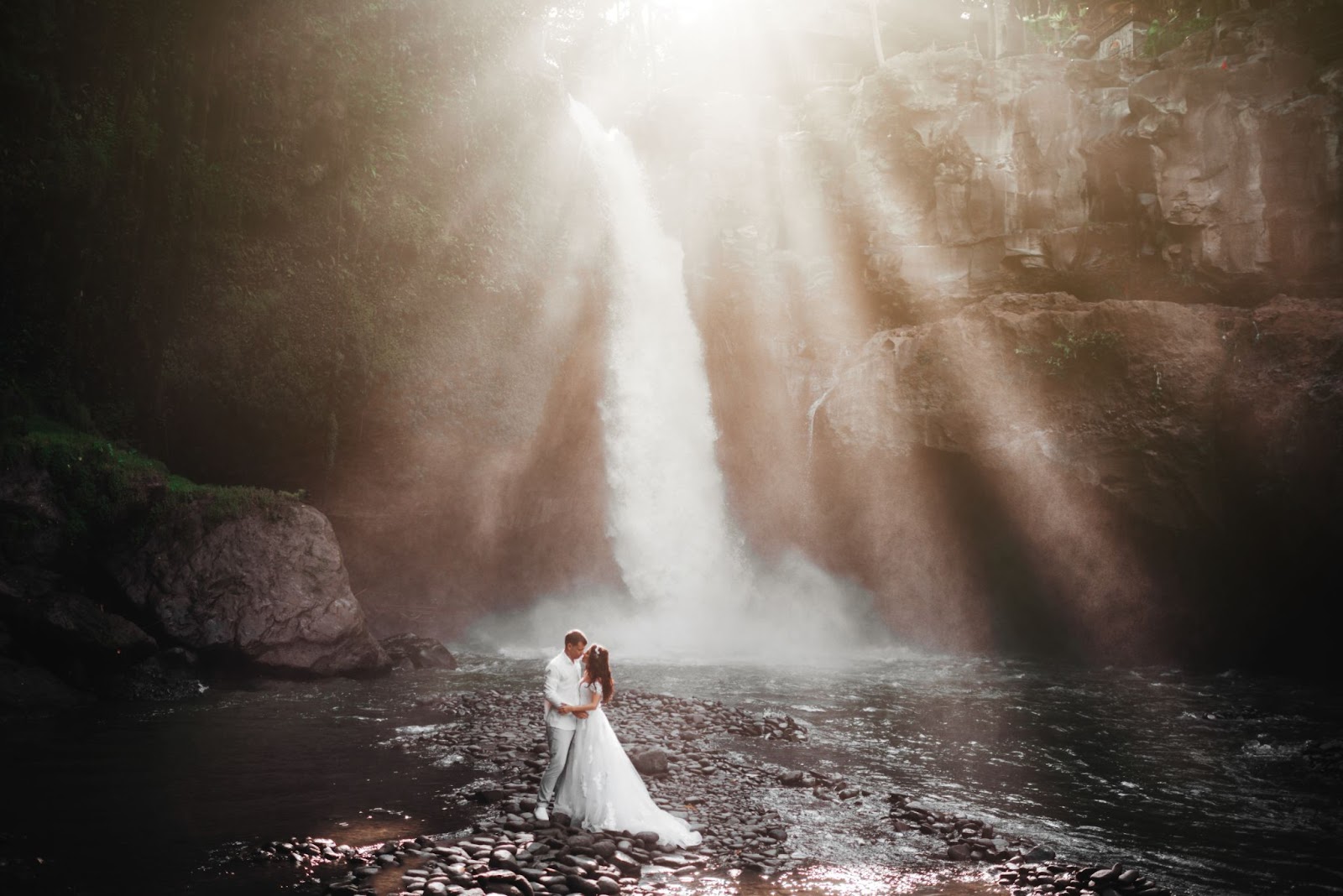 The Best Time Of Year To Have A Mountain Wedding
There's something about a mountain wedding that just feels right.
Maybe it's the peacefulness of the landscape, or the way the peaks seem to touch the sky.
Whatever it is, couples looking for an unforgettable wedding often consider having their big day in the mountains but they often are not from the mountains themselves and so are unfamiliar with the seasons there.
The best time of year to have a mountain wedding varies depending on where you are (ie: where the mountains are), but generally speaking autumn and spring are both great times.
In the autumn, the leaves change color and create a beautiful backdrop for photos.
In the spring, everything is starting to bloom and nature is coming back to life.
Winter on the other hand is a very attractive option for its own reasons.
The crisp winter mountain air that makes you feel alive, the soothing quiet of the landscape, and the stunning white blanket over everything to name just a few.
Of course, this is to say nothing of mountains in tropical climate zones which have their own attractive beauty.
In tropical mountains, the temperature and foliage tend to remain relatively consistent throughout the year with the main seasonal changes being between the wet season, during which rainfall is more frequent, and the dry season, during which rainfall is less frequent.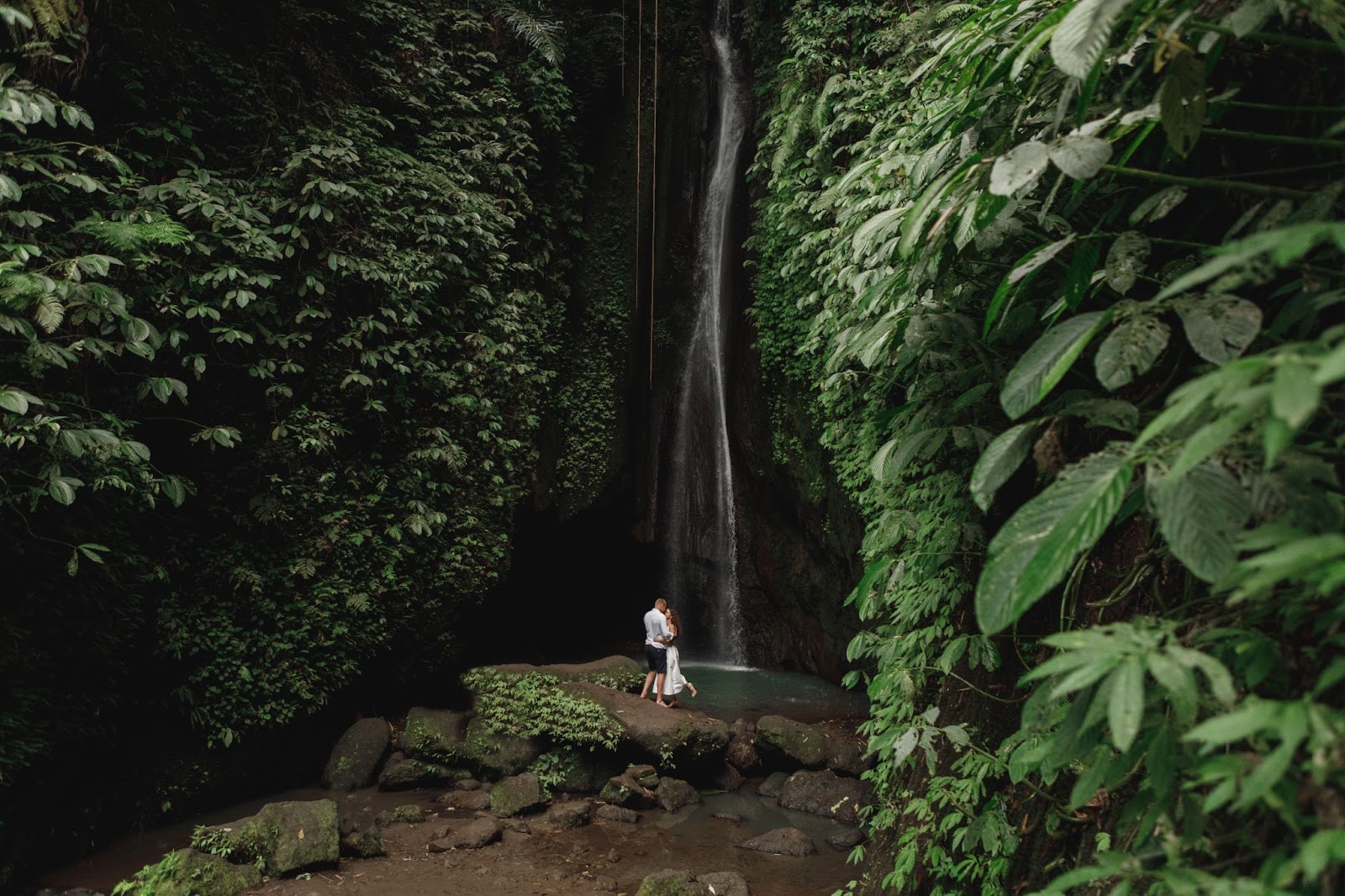 What To Wear To A Mountain Wedding
When dressing for a mountain wedding, it's important to keep in mind the aesthetic of the venue and the season.
In the summer, light colors and natural fabrics are perfect for an outdoor wedding.
For autumn weddings, layers are key so you can adjust to the changing temperatures.
In the winter, opt for darker colors and warmer fabrics to stay comfortable in colder temperatures.
And no matter what time of year it is, make sure to wear comfortable shoes!
A mountain wedding is all about embracing the natural beauty of your surroundings.
So, when it comes to what to wear, choose pieces that fit with the mountain aesthetic.
Earthy colors and natural fabrics are a good place to start.
Think about layering pieces so you can easily adjust your outfit as the temperature changes throughout the day.
A dress or skirt with a flowy hem is perfect for a mountain wedding, as is a cardigan or shawl to keep you warm in the evening chill.
Simple jewelry and shoes that can be easily removed are also ideal, since you'll likely be doing a lot of walking on uneven ground.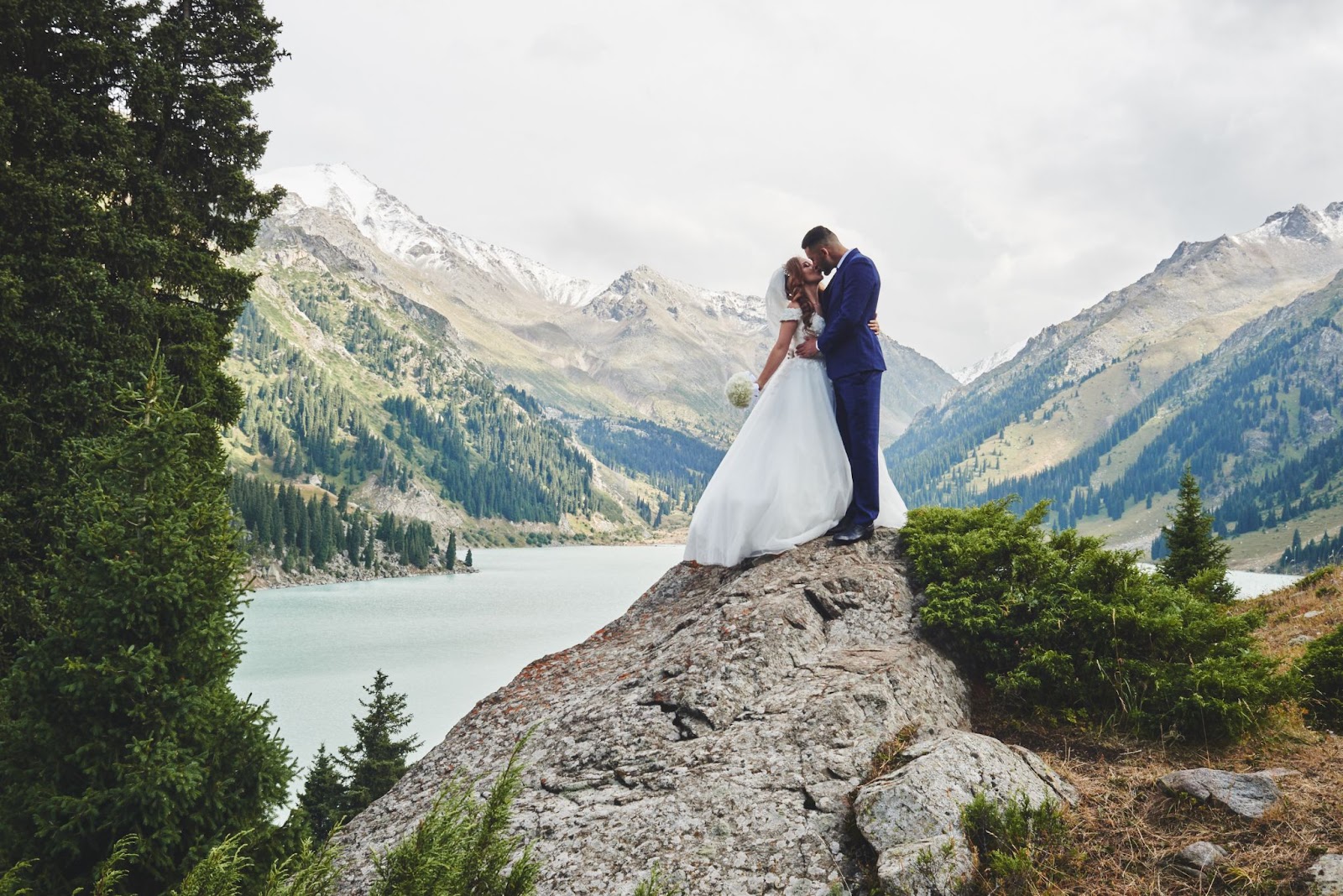 How To Plan Your Ceremony And Reception
When you're planning your ceremony and reception, it's important to think about the mountain aesthetic you want to create both inside and outside.
If you're looking for a rustic mountain feel, consider using natural elements like wood, stone, and greenery.
You can also add touches of nature with flowers, trees, and birds.
Another option is to go for a more formal look with white linens and elegant decor.
Whatever style you choose, make sure the colors and textures complement each other.
You'll also need to decide on the layout of your ceremony and reception spaces.
If you have a large property, you may be able to use multiple areas for different purposes.
Otherwise, you'll need to choose one space for both the ceremony and reception.
Once you've settled on the basics, start adding details that will make your event unique.
If you're looking to have an outdoor wedding ceremony and reception, it's important to plan ahead to ensure that everything goes smoothly.
Here are a few tips to help you get started:
Choose a location that fits with your wedding aesthetic. If you want a rustic, mountain-inspired wedding, opt for a venue with natural scenery and plenty of trees.
Scout the location in advance to make sure it's the right fit for your needs. This includes checking the availability of parking, picnic areas, and restrooms.
Plan your ceremony and reception timing carefully. You'll need enough time to set up before the ceremony, and break down afterwards. Factor in time for speeches, cake cutting, and any other special moments you'd like to include.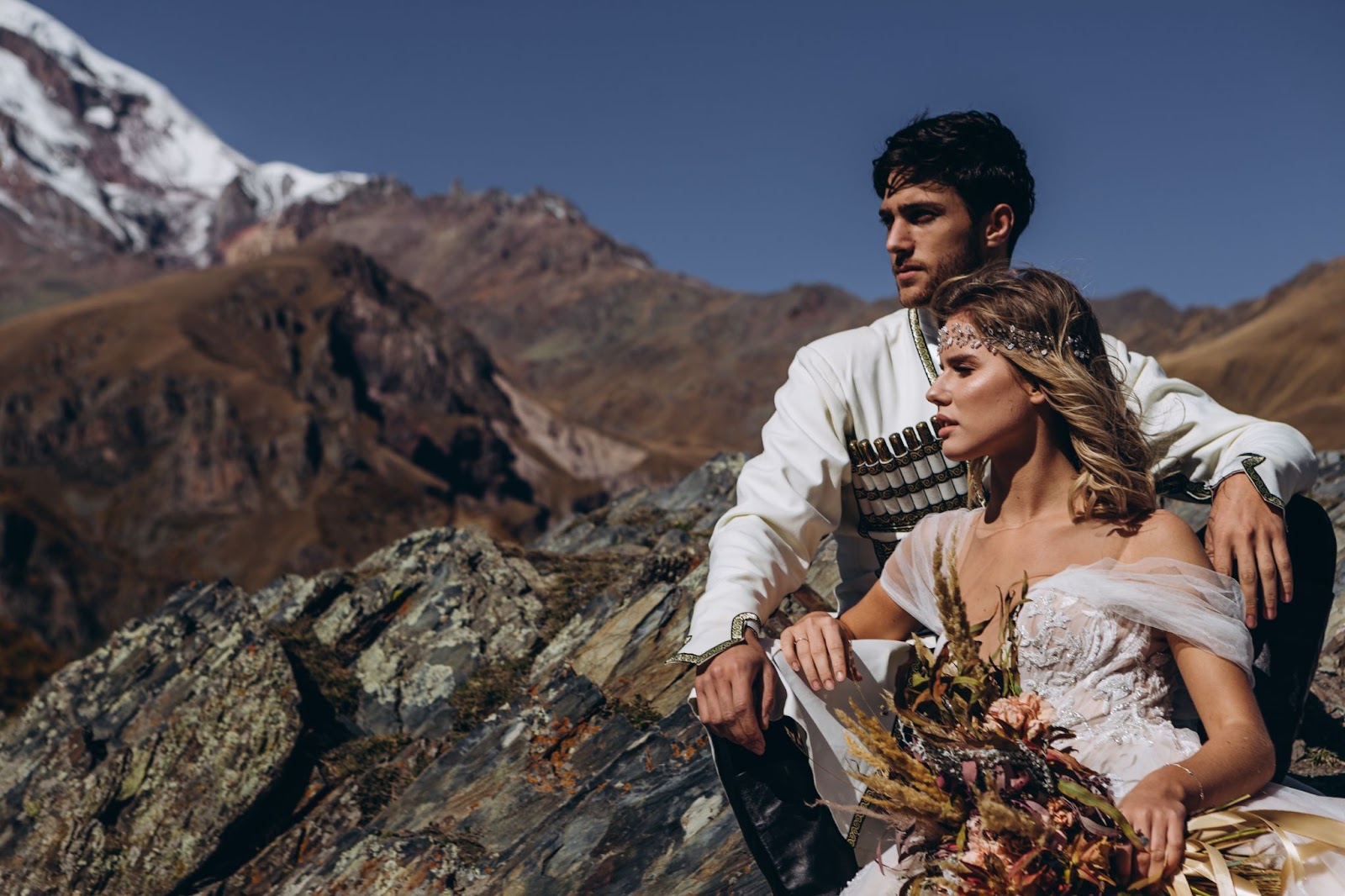 Mountain Wedding Photography Tips
One of the many perks of having a mountain wedding is that you have a naturally beautiful backdrop.
However, this also means that your photography has to be on point in order to capture the magic of the location.
Here are some tips to make sure your mountain wedding photos are stunning:
With such an impressive landscape as your backdrop, you don't need much else in the photo. Simple arrangements of flowers or decor will be all you need to accentuate the natural beauty of the location.
Go for an outdoor ceremony. Not only will this save money on renting a venue, but it will also give you stunning photos with nature as your witness. If possible, choose a spot with an epic view as your backdrop.
Take advantage of light conditions. The time of day and weather can dramatically affect the look of your photos.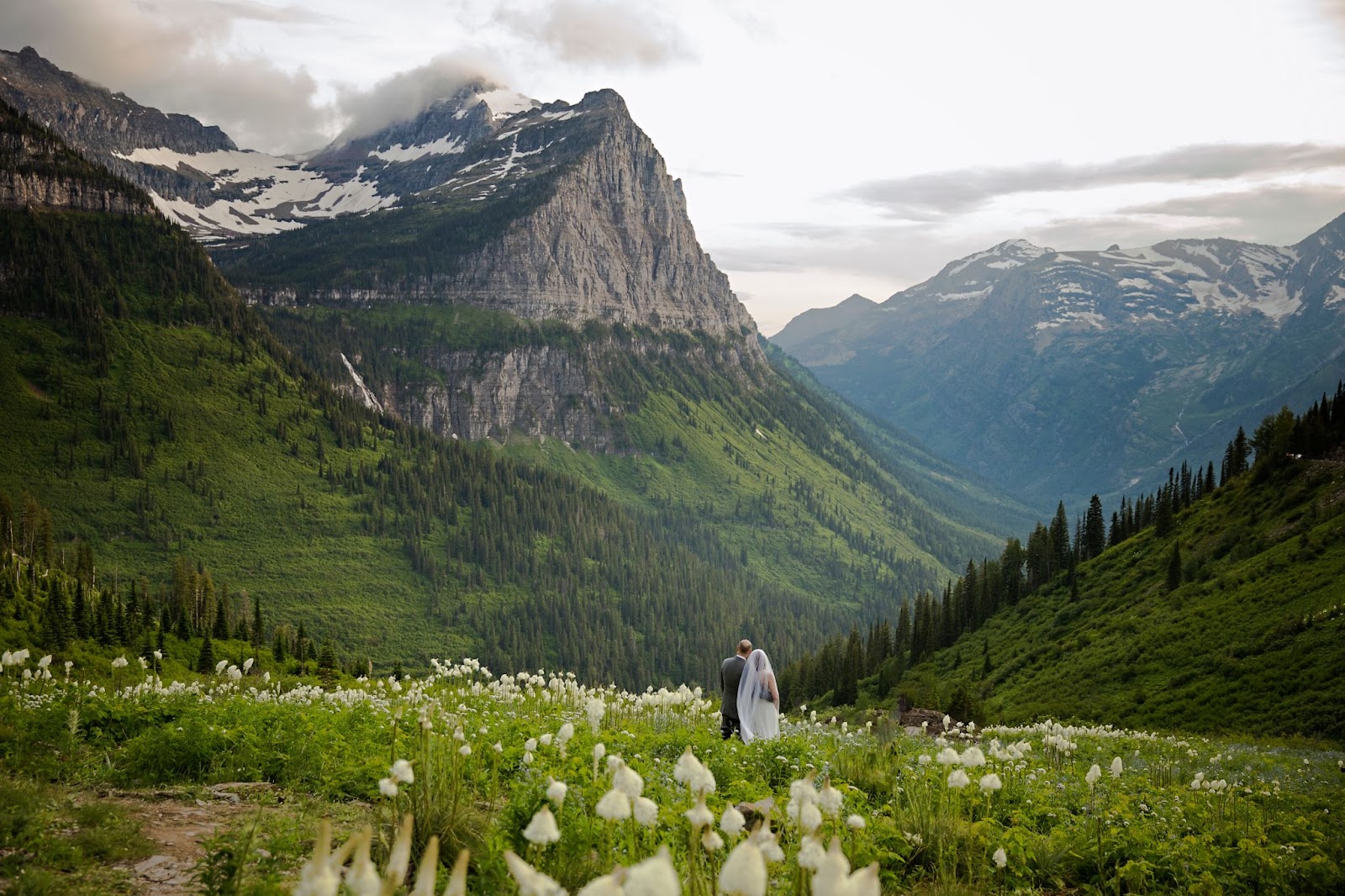 Mountain Weddings Are A Beautiful And Unique Way To Get Married
As we said in the beginning of this article, mountain weddings are becoming a more popular way to say "I do".
There is something about the mountain aesthetic that just makes a wedding feel more special and unique.
Plus, who can resist the stunning views that come with getting married in the mountains?
There are many reasons why mountain weddings are becoming more popular.
First of all, they just look beautiful.
Mountains provide an amazing backdrop for photos, and they create an overall aesthetic that is unique and unforgettable.
Secondly, mountain weddings tend to be less formal than traditional weddings.
This can be a great option for couples who want a more relaxed wedding atmosphere.
Finally, mountain weddings are often less expensive than traditional weddings.
This is due to the fact that many mountain venues are located in rural areas, which tend to be less expensive than big city venues..
There are many reasons for this: the natural beauty of the mountains, the privacy and tranquility they offer, and the unique setting they provide.
Mountain weddings can be very intimate and personal ceremonies while still giving you a feeling of openness, freedom, and adventure.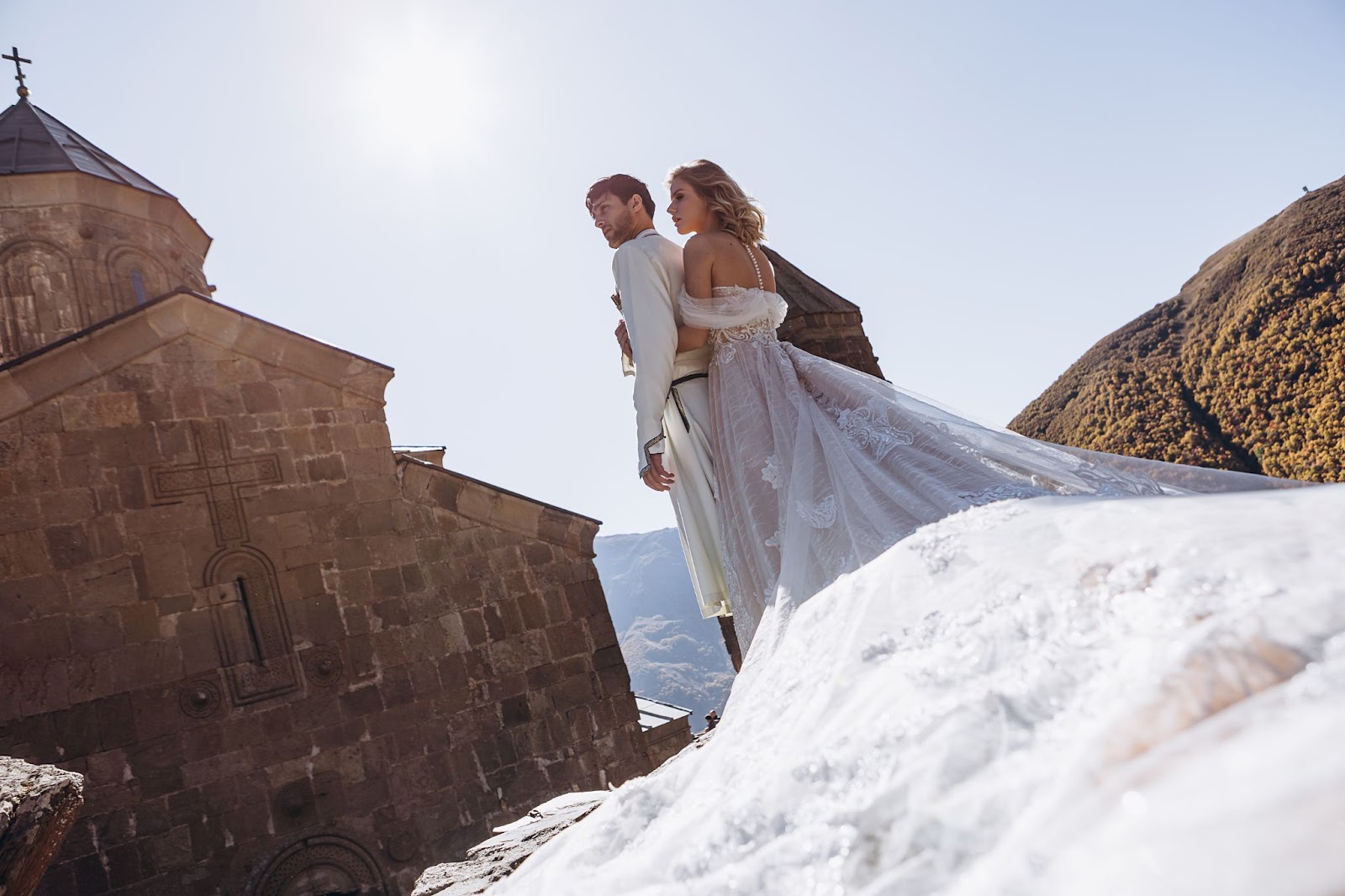 They can also be very elegant and beautiful, with an aesthetic that is all their own.
The mountains provide a stunning backdrop for photos, and add a touch of rustic charm to the event.
If you're looking for a unique wedding location that is both beautiful and romantic, consider getting married in the mountains.
Maybe even consider our own beautiful mountain venue.
You won't be disappointed!