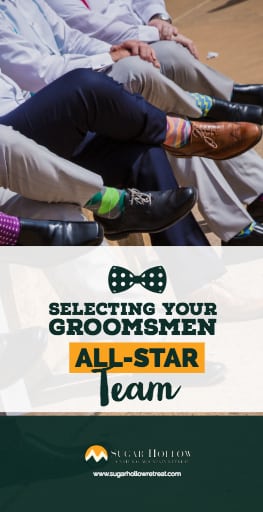 Once you've booked the two most important people at your wedding (you and your wife), it's time to assemble your groomsmen all-star team.
These are the men that'll be selected to be by your side on the big day. We're talking about your first round draft picks, of course. With best friends, cousins, brothers, and college roommates jocking for position, it's up to you to build your dream team.
A set of men, hand-picked by you, to carry out all essential groomsmen duties. It sounds daunting, we know. Luckily, we've put together a little guide to help you make the right picks without bruising egos or splitting friendships.
Here you go:
How Many Is Too Many?
When you're able to choose as many (or few) loyal gentlemen as you can, selecting your groomsmen becomes a tough task. You have plenty of options, and you can quickly go overboard.
Here are a few key points when making your selection:
Typically the size and formality of your wedding determine the number of groomsmen and bridesmaids. If you have more people standing behind you than sitting in the seats, you probably overdid it.
Groomsmen usually double as ushers, so you'll need at least one usher for every 50 guests.
To be a groomsman is to be chosen. It's supposed to be an honor. So, it's best to keep your list short and special.
Select Reliable People
Although you and your wife will be doing most (if not all) of the wedding planning, selecting reliable groomsmen is crucial for a smooth, fun wedding. Choose people you can count on.
Friends and family that don't return calls, show up late to events, or flake; shouldn't be strong candidates for this honorary position.
Instead, select people that will answer your emails and show up when you need them (maybe even a few minutes early).
"Will You Be My Best Man?"
Ah, the coveted role of best man. Its importance is right there in the title. Naturally, the best man will have a variety of responsibilities before and during the wedding.
Everything from last-minute groom errands, to organizing the bachelor party, to keeping an eye out for any potential mishaps.
You want your best man to be extremely reliable, and a trusted friend. Pick someone who's an active part of your, and your fiancee's life.
Brother, cousin, dad, or best friend – they're all typically great contenders.
The Ultimate Groomsmen Gift Set
The perfect finishing touch. The gift set. What better way to show your appreciation to your boys than a personalized gift set?
They add to the allure of this honorary tradition, and they bring you closer as a group.
Whether you have a group of active groomsmen or just some dapper gentlemen who enjoy looking good, there are gift sets for all of them. The Plunge has some stellar gift box ideas for any group of groomsmen. (Attire, accessories, jerseys, whiskey, etc.)*