Are you a minimalist in love with clean lines and open space?

Or, are you a maximalist who lives for the WOW factor?
Using some kind of wedding arch as the focal point of your ceremony pulls everything together visually. No matter the size, the space feels more intentional.
An outdoor wedding venue especially benefits by having an arch by defining the space. Among the trees or in wide open areas, a taller structure in respect to everything else directs attention where it's meant to be.
We've compiled wedding arch ideas of all different styles as inspiration fuel.
What does the arch symbolize in a wedding?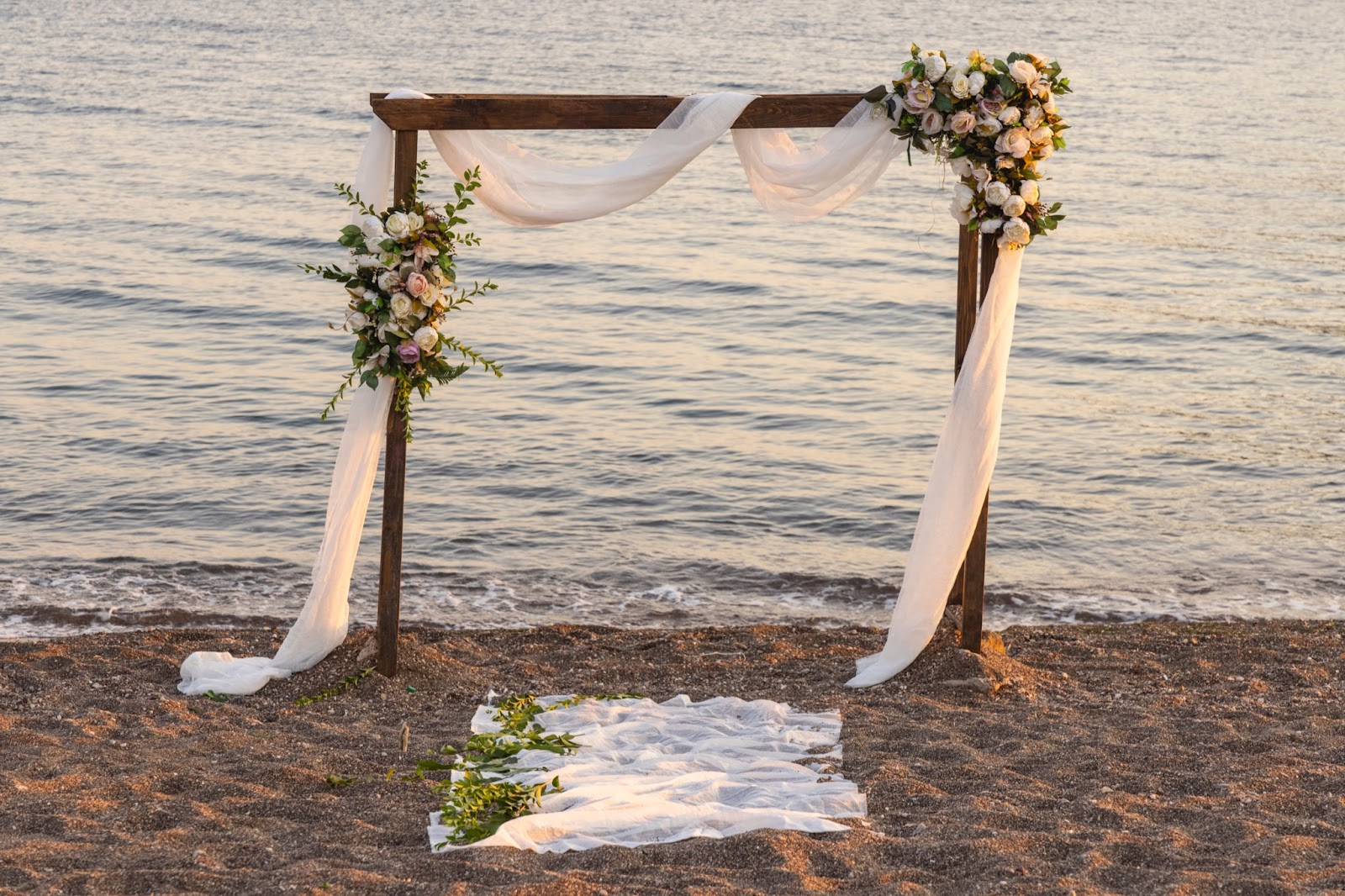 Traditionally, a wedding arch represented the doorway to the newlywed's home. According to Barnutopia.com, the significance of a wedding arch is prominent within cultures around the world:
"A chuppah is a canopy under which Jewish couples stand during their ceremony. This is a cloth, sheet or prayer shawl held up by attendants or supported by poles. It symbolizes the home the couple will build together.
A Mandap is used in Hindu and Jain ceremonies. The four pillars represent the parents on both sides and their toil in bringing up the couple."
These days, no matter the reason, arches are a timeless feature and make the perfect place to exchange your heartfelt wedding vows.
What material goes on a wedding arch?
The arch itself can be constructed of any material. Commonly wrought iron, wood, lattice, copper, or acrylic.
A combination of materials and texture makes a visually interesting piece. Sheer, flowing curtains draped across beams interspersed with thoughtfully planned natural elements. You can even showcase some beautiful macrame for a boho touch.
Add dimension by hanging pendant lights from the arch or warm fairy lights.
How do you make a simple wedding arch?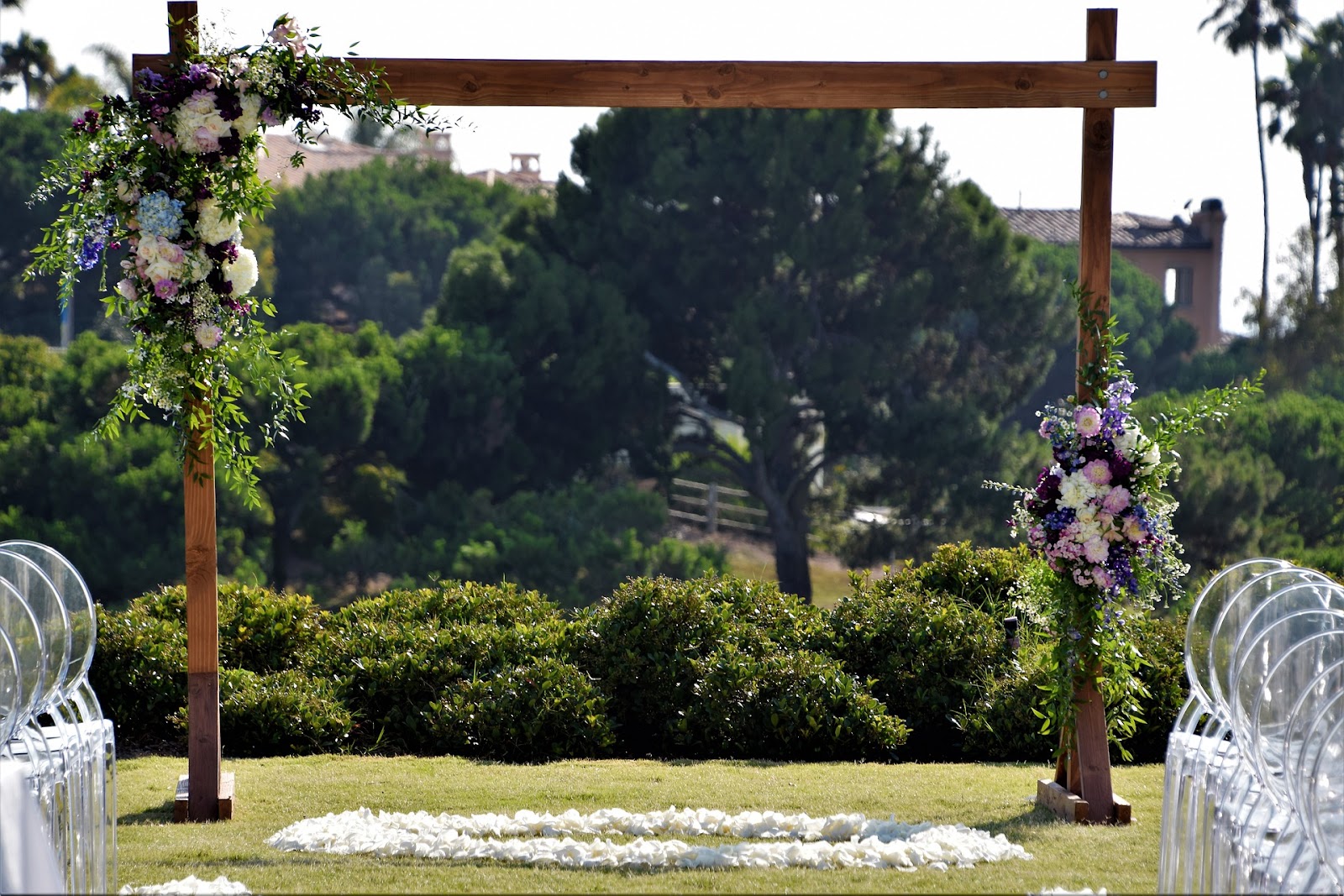 Simple wedding arch ideas are abundant: purchase a prefabricated arch and drape sheer curtains, string lights and silk florals wherever you prefer. There is always the option of using recycled materials.
If hands-on involvement is on your dream wedding bucket list, building your own wedding arch is a great way to showcase your talent. This detailed step by step post by Dunn Lumber will help.
What can I use instead of wedding arch?
You can get very creative with arch-inspired ideas in place of a literal arch.
Wedding arch alternatives such as a deconstructed wedding arch or an arch like structure are for the couple that goes against the norm.
Wooden wedding arch ideas don't have to be a common horseshoe shape. Creating a unique geometrical shape is having a moment in wedding trends and brings a fresh look to the space.
Arches are only the beginning – we've seen people create a hexagon shape, a frame-like square, or towering triangle.
Wedding Arch Top Tips
We have a few tips to make the most of your decor whether simple or elaborate.
Multiple uses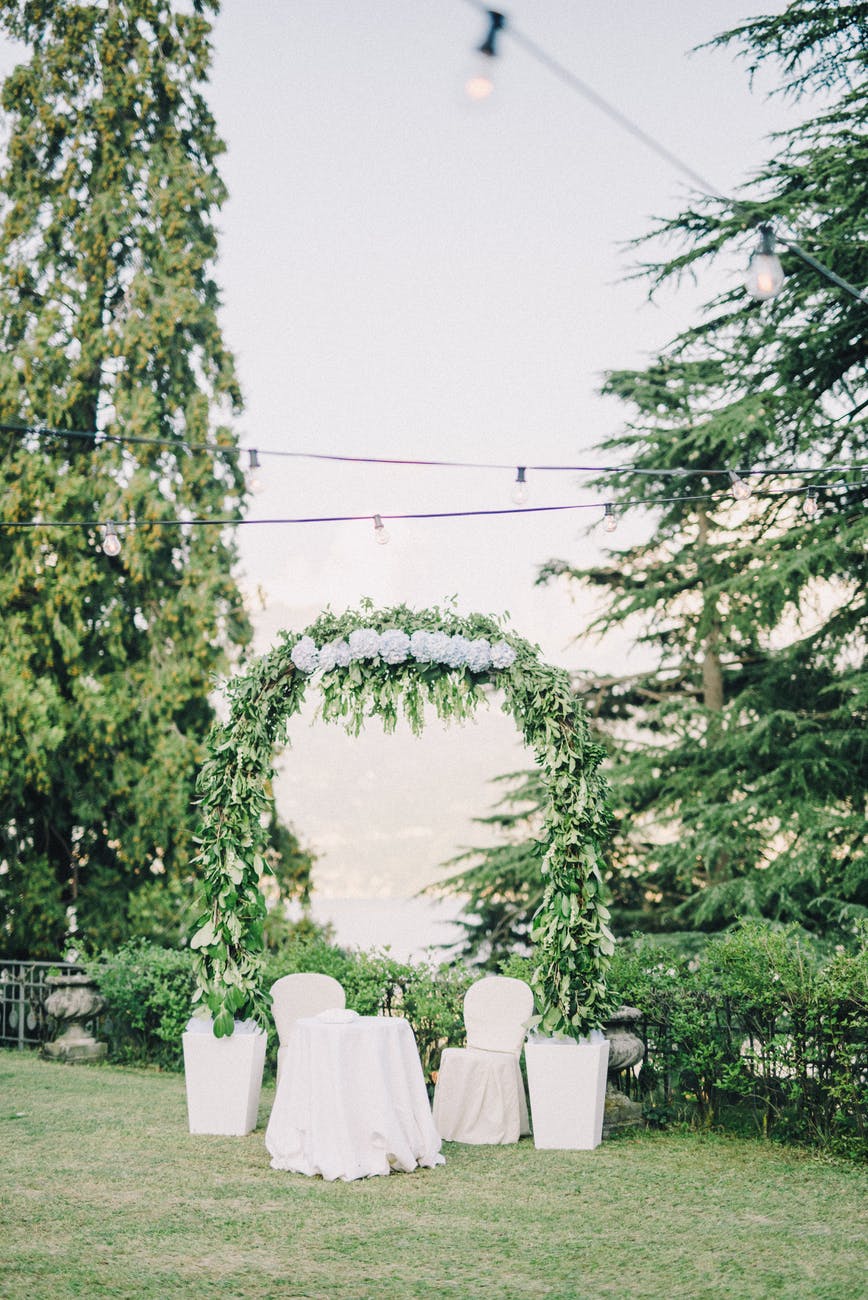 Before construction of the arch, forethought should be made to decide on the arch's use. Do you want it only at one location or do you want the chance to admire it during the reception? Wheels can be added to the bottom for portability.
A detachable garland can be planned to make an appearance across the dessert table. We know you carefully planned your perfect wedding cake, so for maximum appeal frame the whole table with coordinating foliage.
Alternatively, repurpose the arch to be placed behind the sweetheart's table during dinner. At a large wedding, this places the newlyweds at a distinctive table among the rest.
Seasonality
Most brides dream of an arrangement of all of their favorite, real flowers. However, it's important to keep in mind their seasonality. For the bride's bouquet, it's easier to select delicate flowers since it's on such a small scale.
Durability of florals is more important in outdoor weddings than indoor, but for all decor including arches, picking flowers hardy enough to hold up in the arrangement can reduce your choices a bit. You're aiming for larger flowers that keep their shape out of water and don't immediately wilt in the sun or fold in the wind.
This great post by The Knot gives an overview of the best flowers for every month of the year.
Incorporate the environment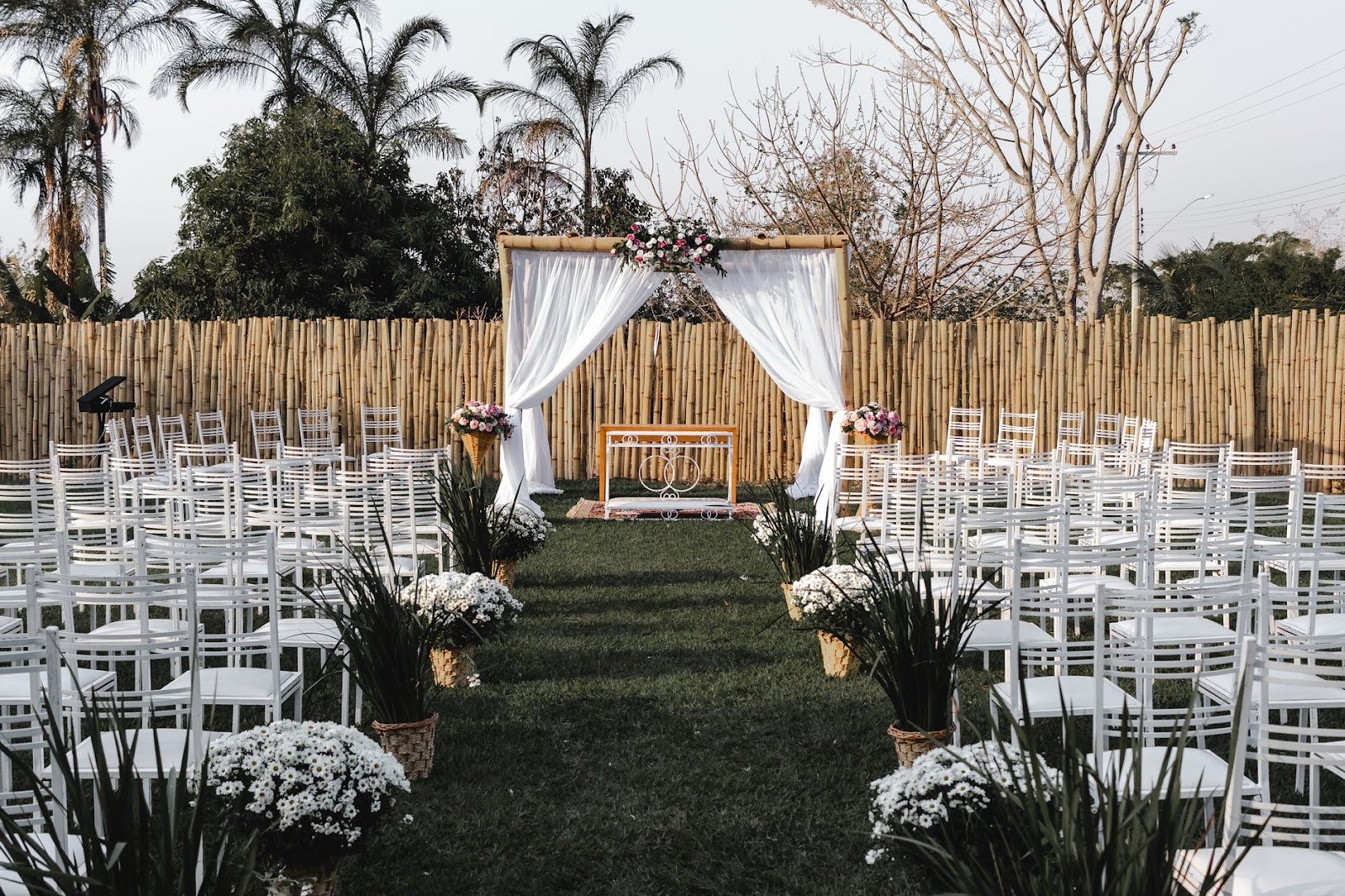 When choosing the elements, greenery that is naturally occurring in the environment will never look out of place. Also, pick a color scheme that will complement or contrast the surroundings. Outdoor wedding arch ideas are all about picking what's meant to fit into your setting.
Driftwood, palm fronds and tropical flowers are at home in a beach wedding.
Fallen branches and twigs from the surrounding forest, dark green evergreen sprigs are fit for a forest wedding. Found and foraged materials in the construction are helpful as cheap wedding arch ideas.
Modern Wedding Arches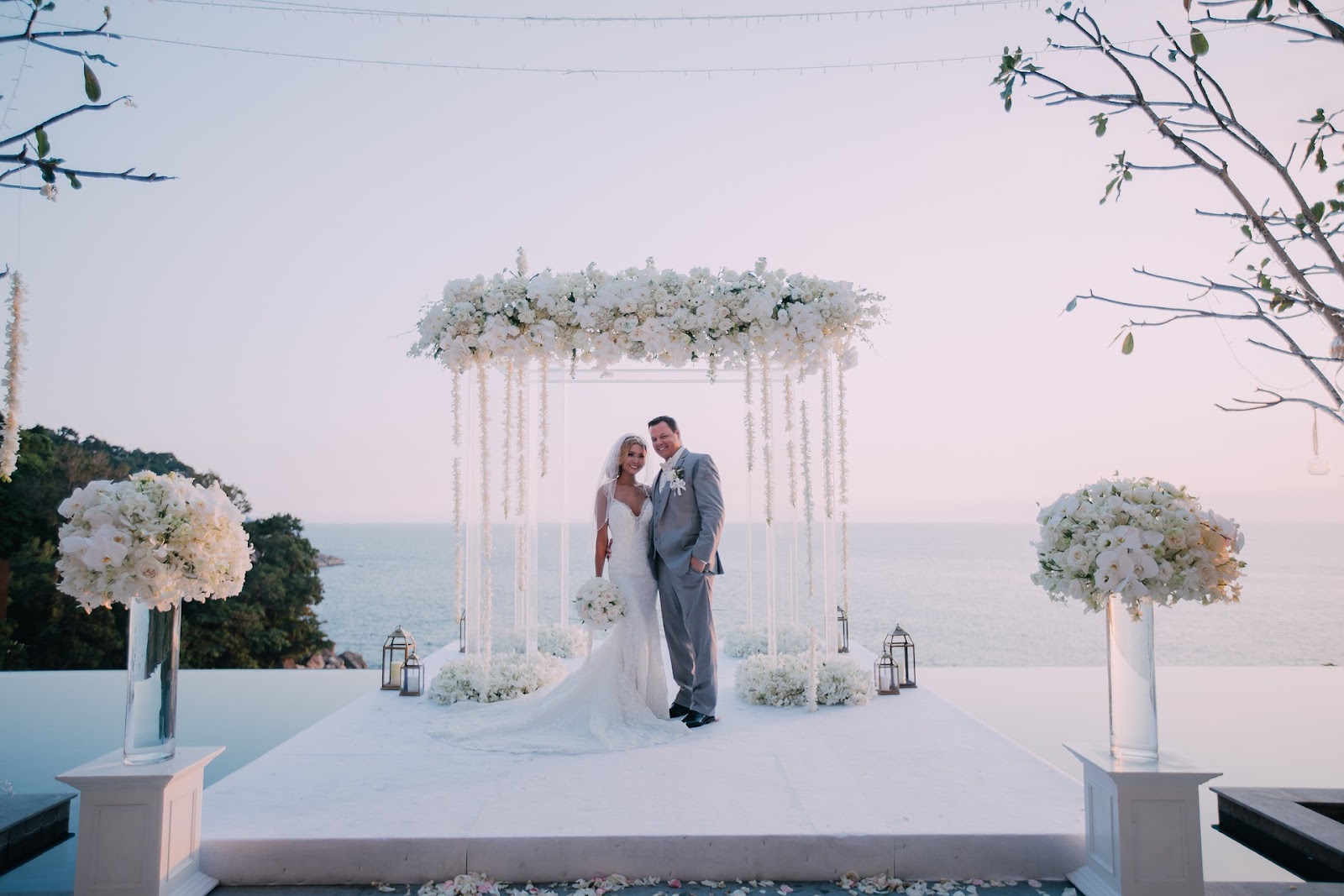 A ceremony inside a building known for its architecture may be better suited for an understated, or even clear, arch so the aesthetics can speak for itself. For wedding arch ideas indoor ceremonies have it easy, since there aren't any weather or insect mishaps to take into consideration.
When the backdrop is plain, such as against a blank wall, go bigger with the arch and let it take up as much space as possible. If the budget for such a huge, trendy piece is a concert, try to look into a wedding arch rental company near you.
Locations with a breathtaking backdrop are similar, keep it understated to let guests easily see through to what's behind. 
Wood Arches and Wedding Arbor Ideas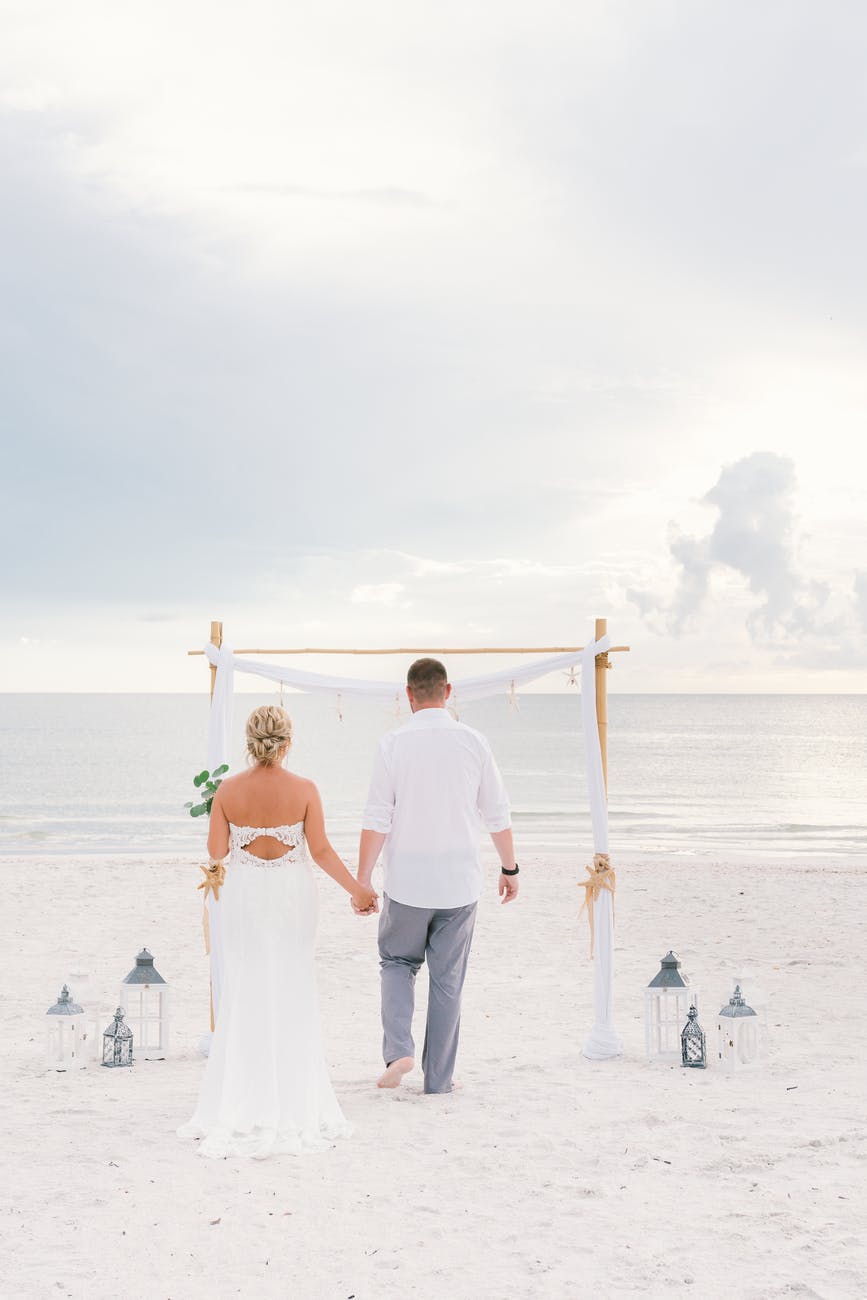 An arch made of wood is a classic and endlessly versatile. You can use wood and building materials with sentimental significance to you, such as lumber taken from a fallen tree on a relative's property.
In a backyard wedding, many wedding arch ideas rustic style take center stage.
Build a wooden arbor beforehand and plant vining plants at its base such as ivy or honeysuckle. You'll create a gorgeous natural tunnel for plants to cover.
Metal Ceremony Arch Inspiration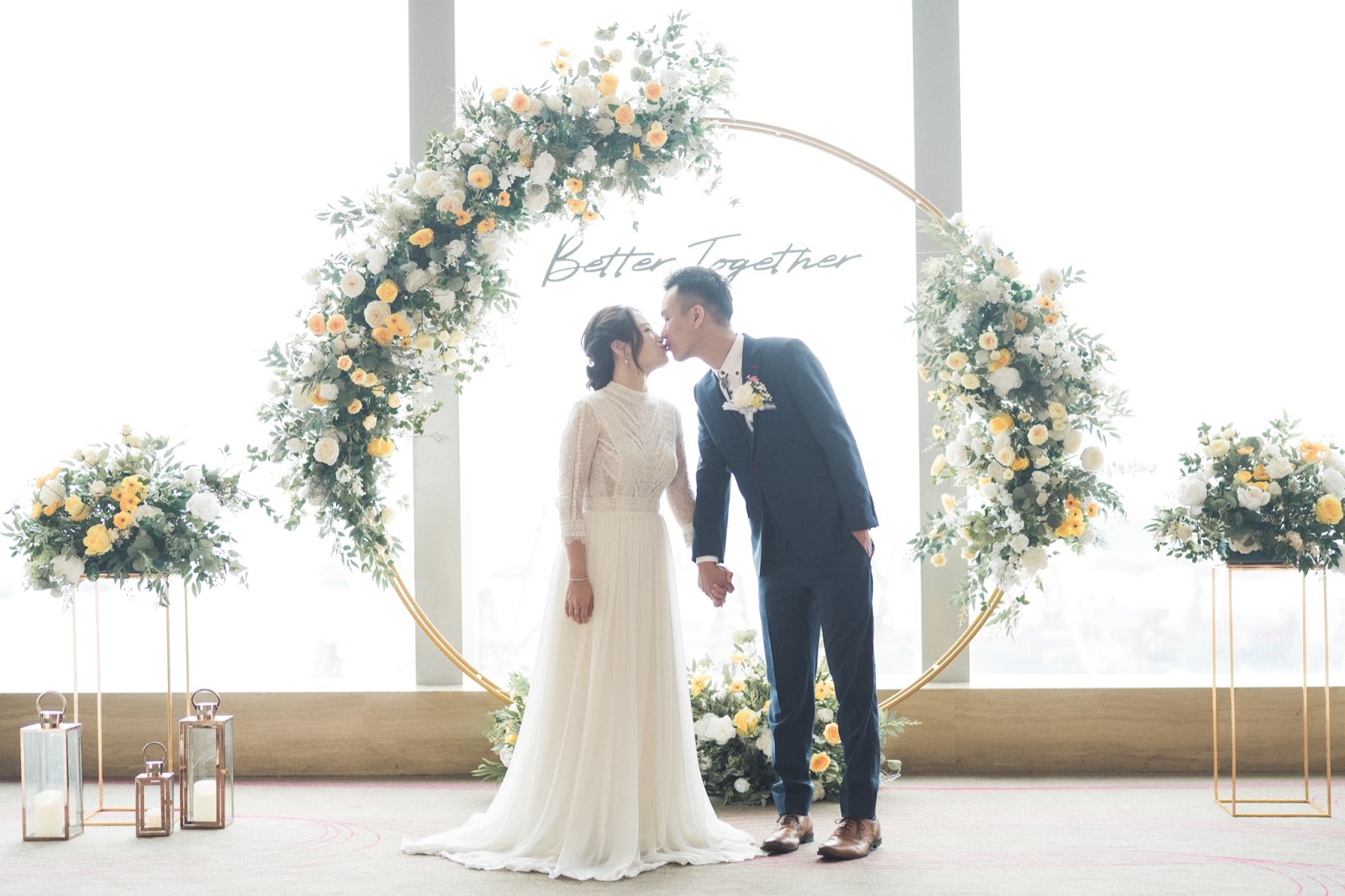 Cool, sleek metal arches that are picture frame like in nature showcase a couple's modernity. This is a minimalist idea that's not afraid to think out of the box.
Out of the ordinary, unique wedding arch ideas DIY style include welding your own metal structure.
Greenery Arch and Ceremony Backdrop Ideas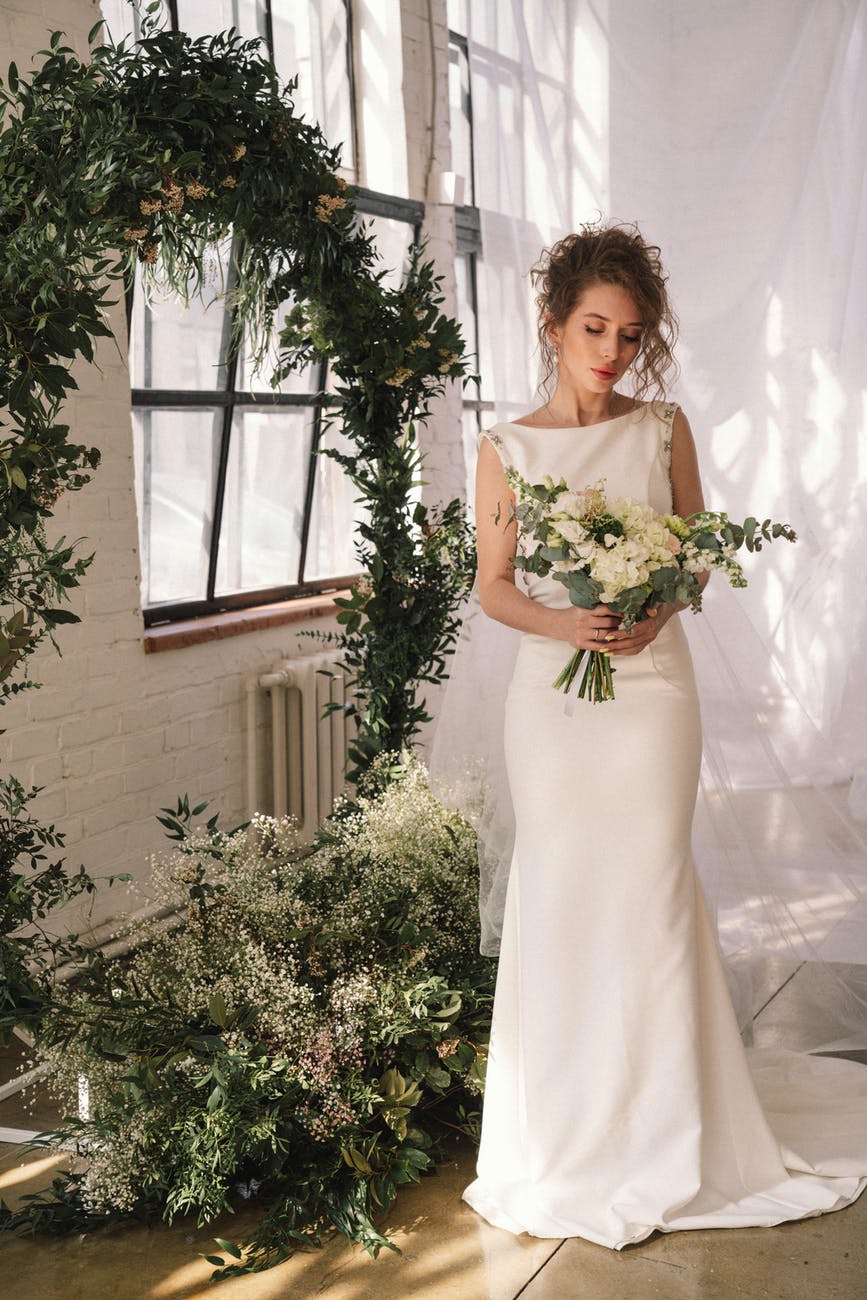 An arch is as beautiful to marvel at as it is useful. Initially acting as a frame for the altar, then becoming a backdrop for wedding photos and a marker for an important area. For a unique photo space, consider pinning greenery directly to a fabric backdrop.
On the way to the altar, don't miss the opportunity to make your walk down the aisle itself special.
Triangle Wedding Altar Arch Ideas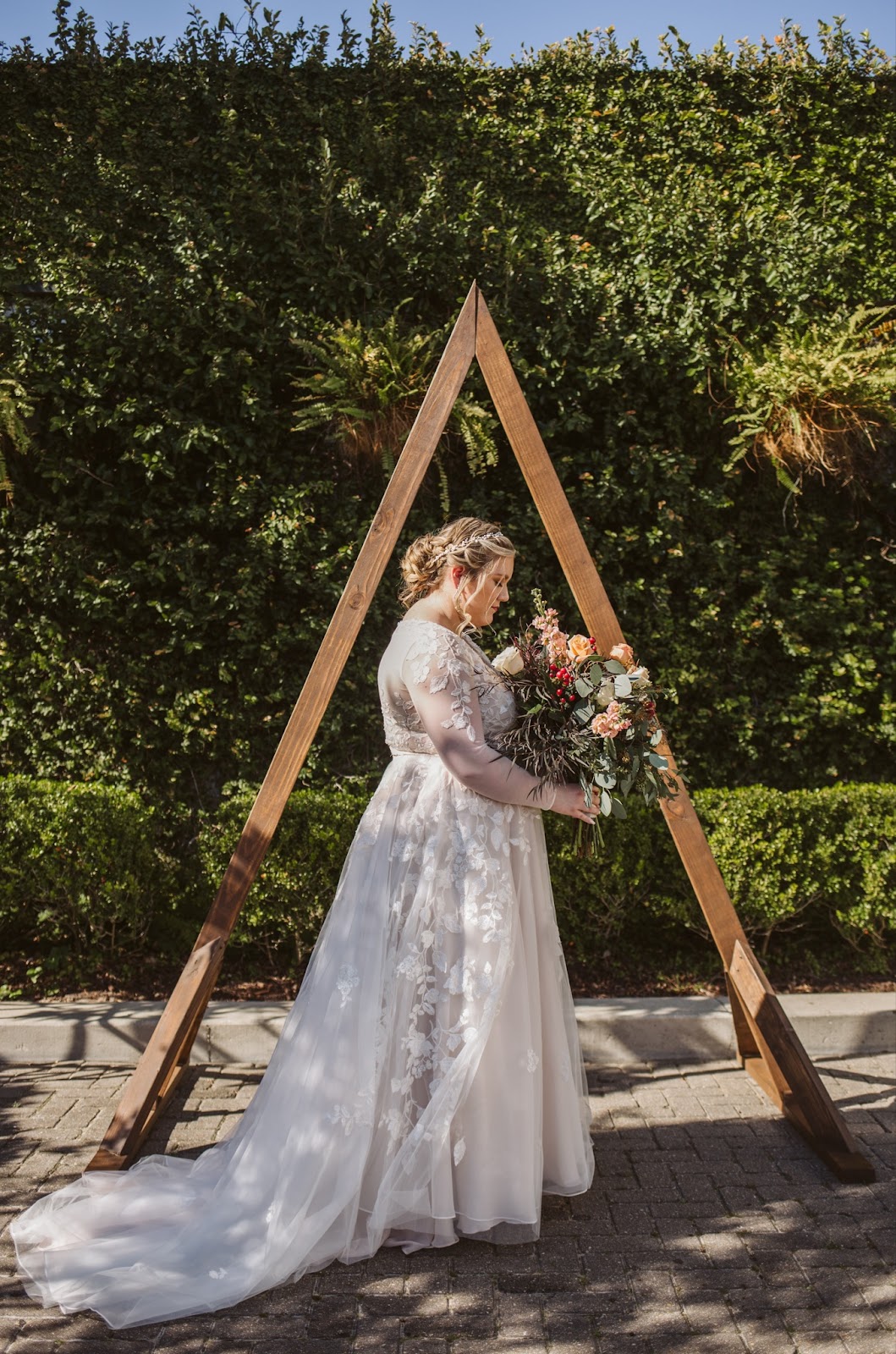 A modern trend for ceremony backdrops is a triangle or circle instead of an arch.
A triangle can be used to represent the bride and groom coming together at a common point. It's symbolic of meeting in the middle, and leaning on one another for support.
Floral Wedding Ceremony Arches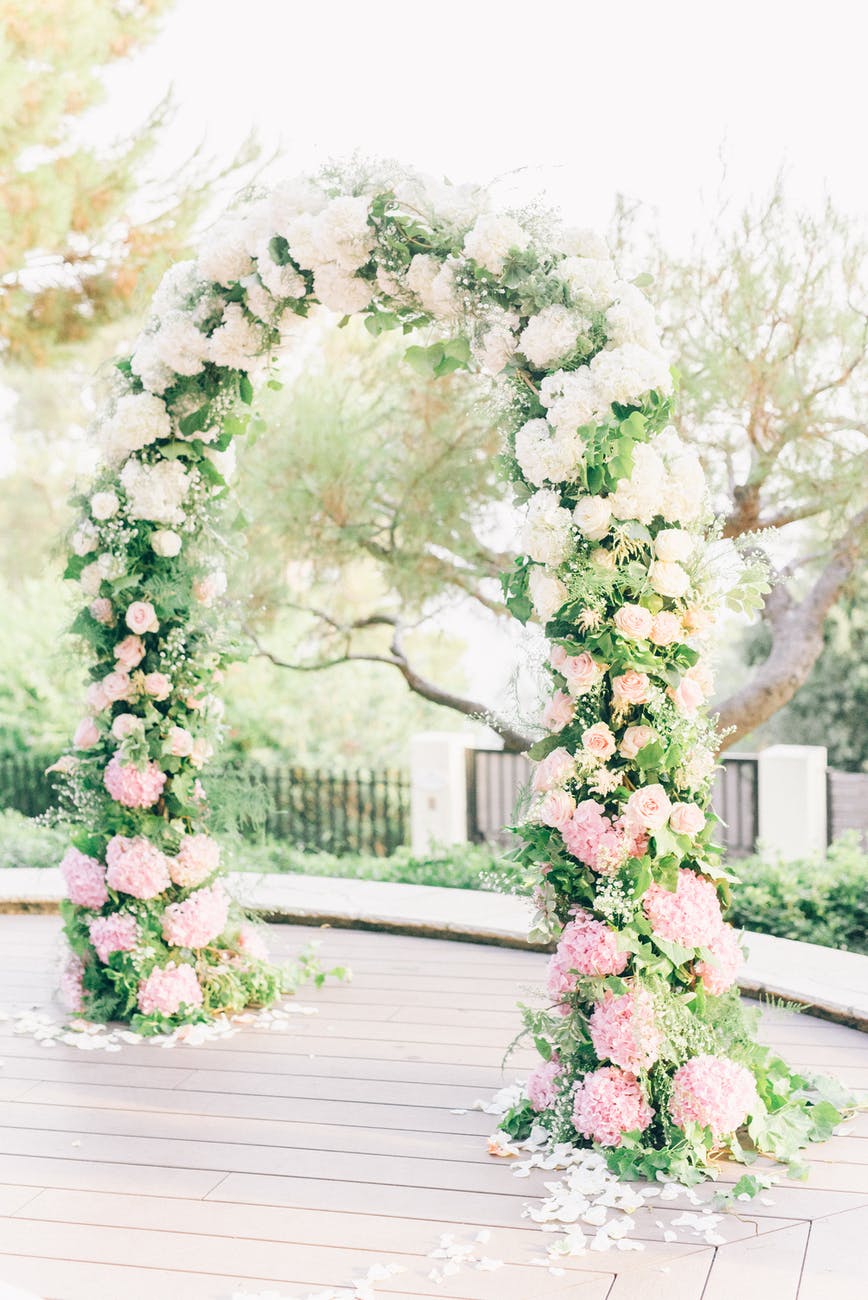 Remember to keep in mind a flower's seasonality. For wedding arch flowers, pick blooms hardy enough to hold up in the arrangement. You want flowers that keep their shape out of water, and for an outdoor ceremony, won't easily fold in the sun or wind.
Floral industry professionals will have the best knowledge regarding this topic and will guide you in the right direction. A florist can also help you match the florals in the arch to your bouquet. Just bring photos of what you like to show them.
For a lower budget, here are some ideas for DIY bouquets.
Full Circle Wedding Ceremony Arches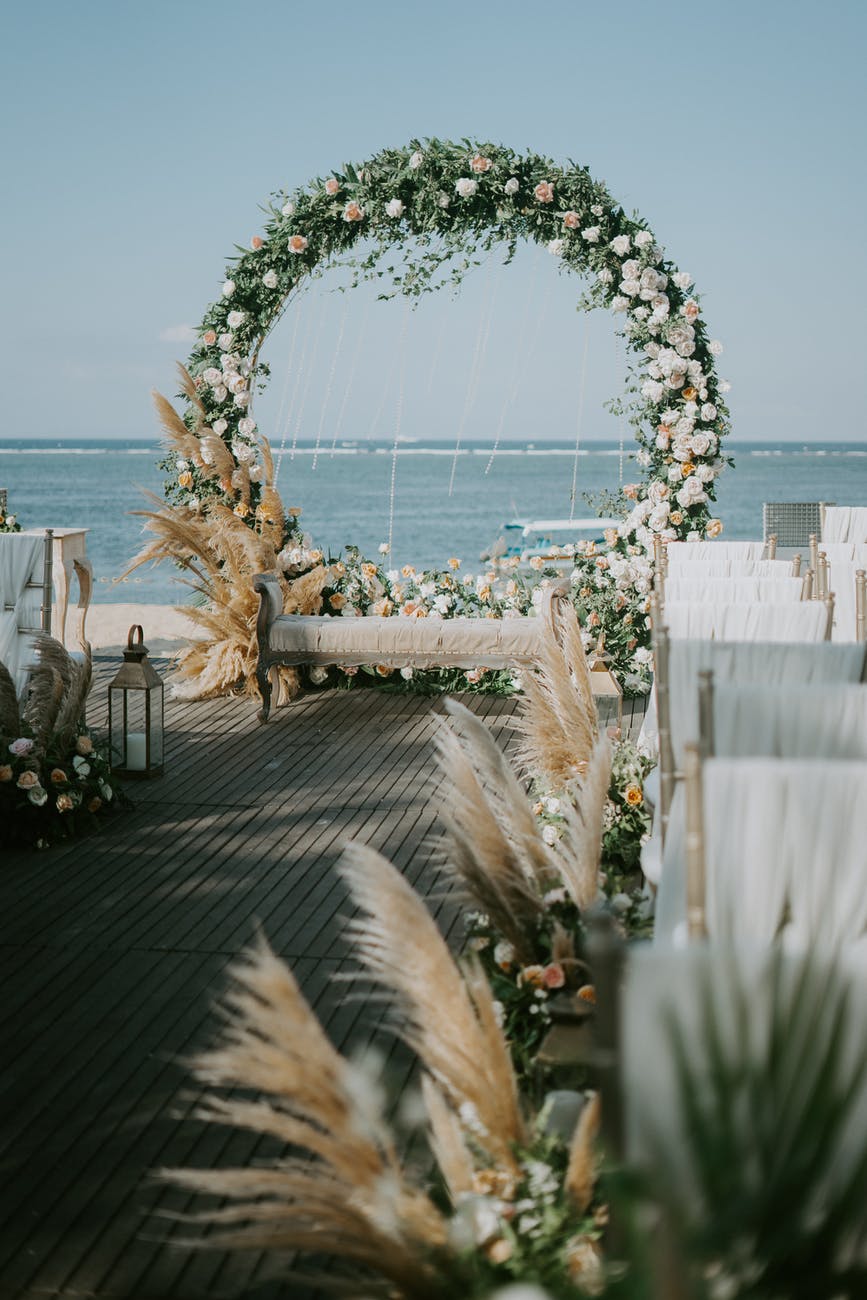 Round wedding arch ideas are a new phenomenon. You can see that a circle wedding arch is stunning as a backdrop, appearing like a giant wreath.
A circle, made of wire and vines or other material, can symbolize the traditional marriage idea of two becoming one, a being without beginning or end.
Wedding Reception Arch Decoration Ideas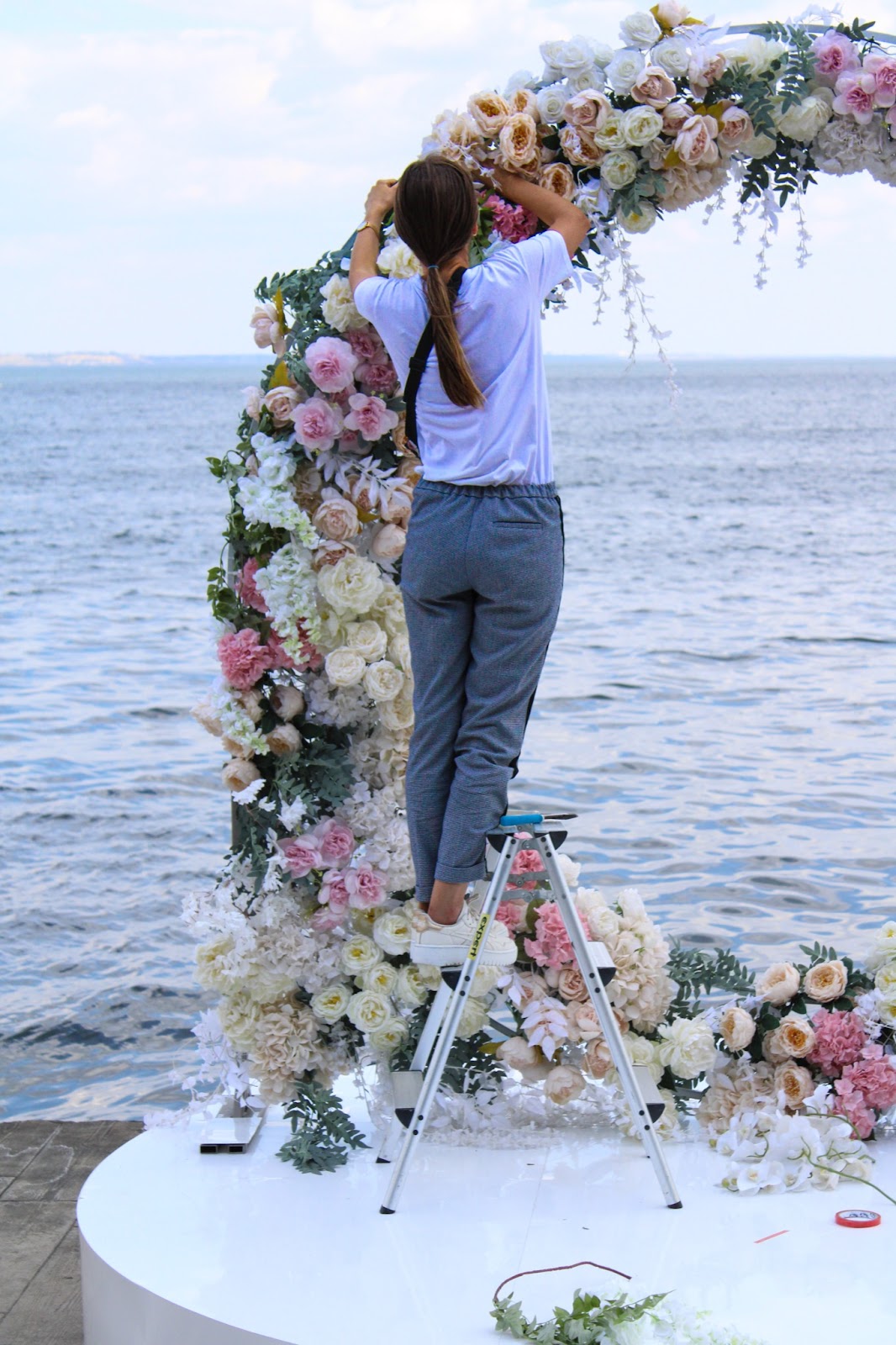 For decoration ideas, we recommend not to crowd your arch too full. Visual drama can be achieved even without covering everything with a thick layer of flowers and fabrics.
Take into consideration the theme of your wedding. Ask someone with an eye for design what colors to pick. Ask a floral professional in your local area what flowers are in season, and which will complement each other while being hardy enough to last in the arrangement.
Conclusion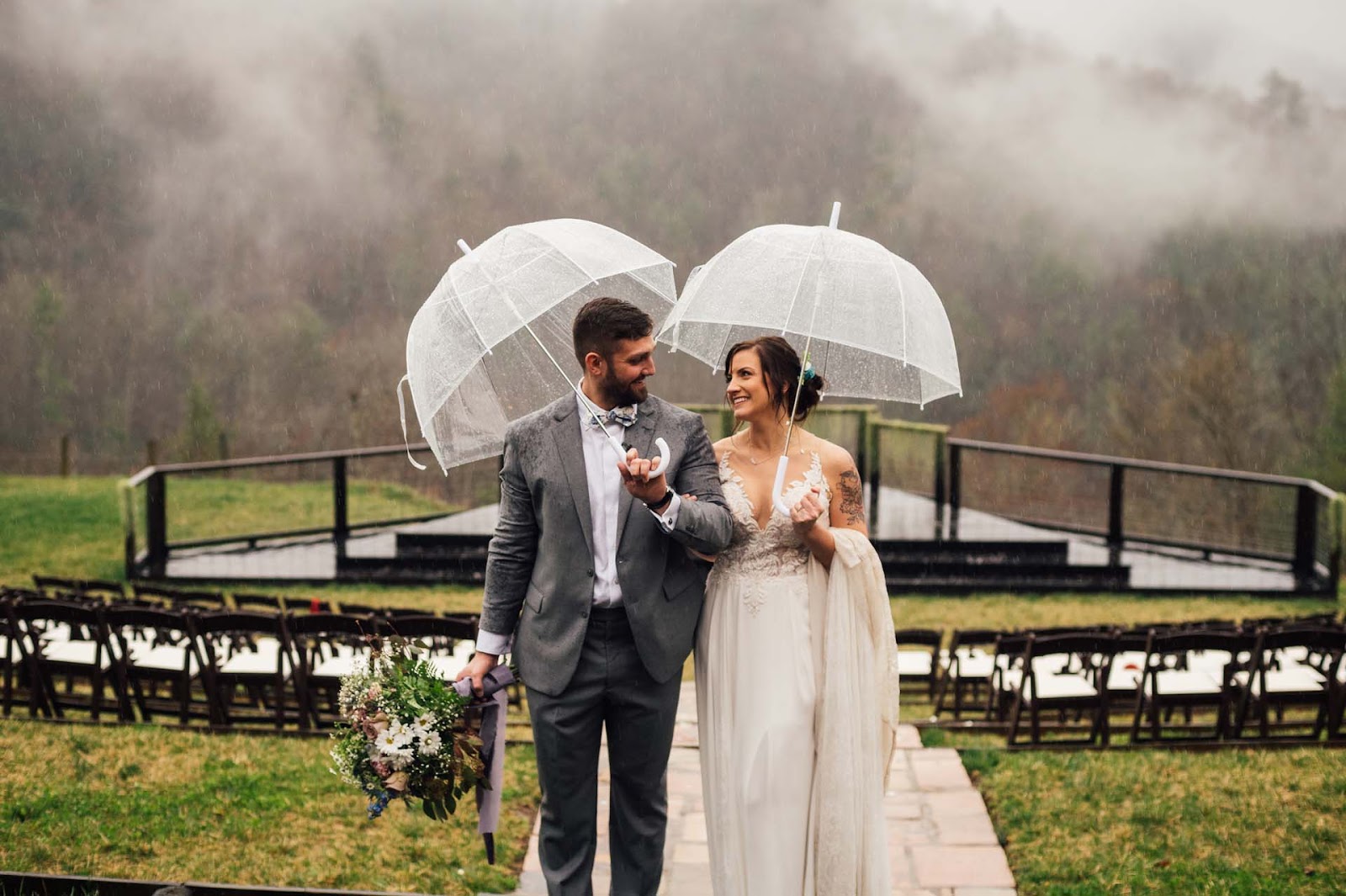 Photo: Sugar Hollow Retreat
Everything on your wedding day is carefully selected because it resonates with you.
The aspects of your wedding, from the venue to the decor, function as a collage of things that represent who you are.
There is no wrong answer when it comes to your ceremony and reception. There's something for every budget, whether you want to infuse your personal touch by going the DIY route or spring for a professional installation worthy of an art museum.
At Sugar Hollow Retreat, a premier destination wedding experience surrounded by the serene Smoky Mountains, we think a personalized wedding day is worth its weight in gold. We love seeing happy newlyweds make lifelong memories surrounded by family and friends.
If you're still searching for the right backdrop for that beautiful wedding arch, come take a look.