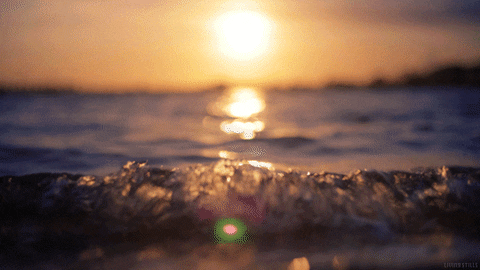 Calling all lovers of the stars and weddings at dusk! 
Are you getting married soon and like the idea of moonlight more than sunlight?
Then you might be the right candidate to hear all about weddings at dusk.
Dusk, also known as twilight, is the period right between sunset and nightfall when there are just a few traces left of sun in the sky.
In other words, it's just when the lights begin to dim and you can bring on the night.
Weddings at dusk have endless opportunities to be cozy, glamorous, and oh so romantic.
And what better way to celebrate the love between you and your partner by tying the knot when romance is at its height?
What makes weddings at dusk so romantic?
What are other ways you can make your dusk wedding more unique?
Here are 5 romantic reasons to choose a wedding at dusk, as well as some fun ideas you can incorporate into your ceremony and reception.
Romantic Reasons to Get Married At Dusk
First, let's start with all of the romantic reasons to get married at dusk.
From intimate candles to weather benefits, we'll sure you'll be convinced to get married after dark once you read our reasons.
You Get to Have A Sunset Ceremony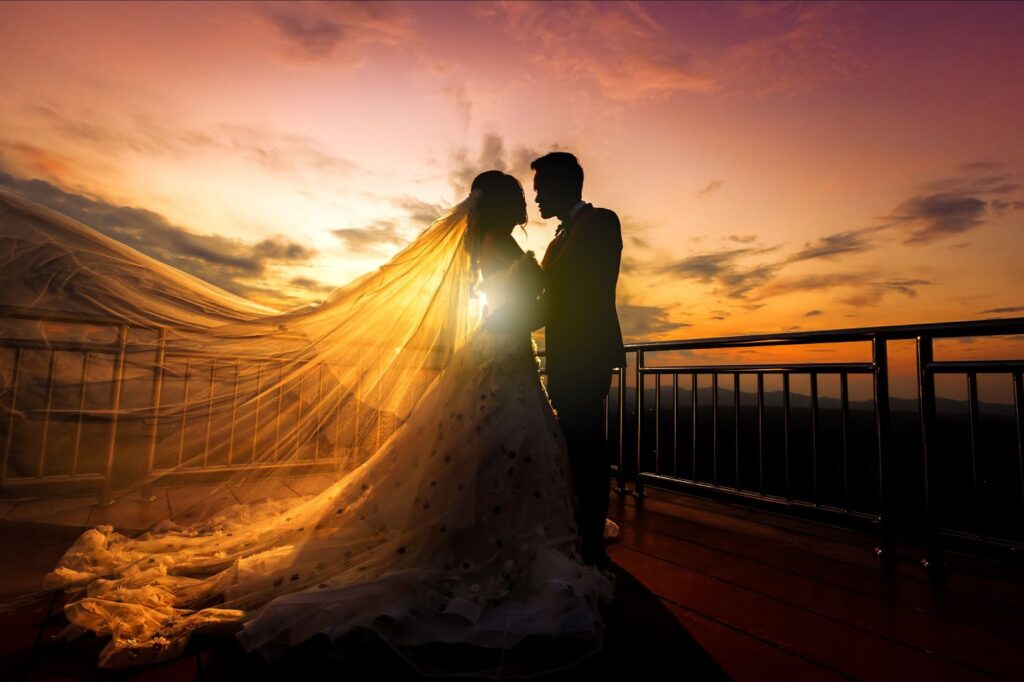 That fleeting moment between daytime and nighttime is truly one of the most magical moments.
It's not swelteringly hot like the middle of the day, but you still have just enough natural light.
You can make the most out of the beautiful moment by organizing a sunset ceremony that will live on forever in photographs.
And afterwards, you and your guests can party the night away.
Weddings at Dusk Have An Elegant Atmosphere
Every now and then it's a good idea to put on the ritz and get fancy.
And if you're getting married in the evening, the expectation is that it'll be a more formal affair.
However, you don't have to let that freak you out; instead, lean into it!
Dusk and evening receptions bring their own unique elegance, so embrace the fancy vibes!
Candlelight Sets A Romantic Mood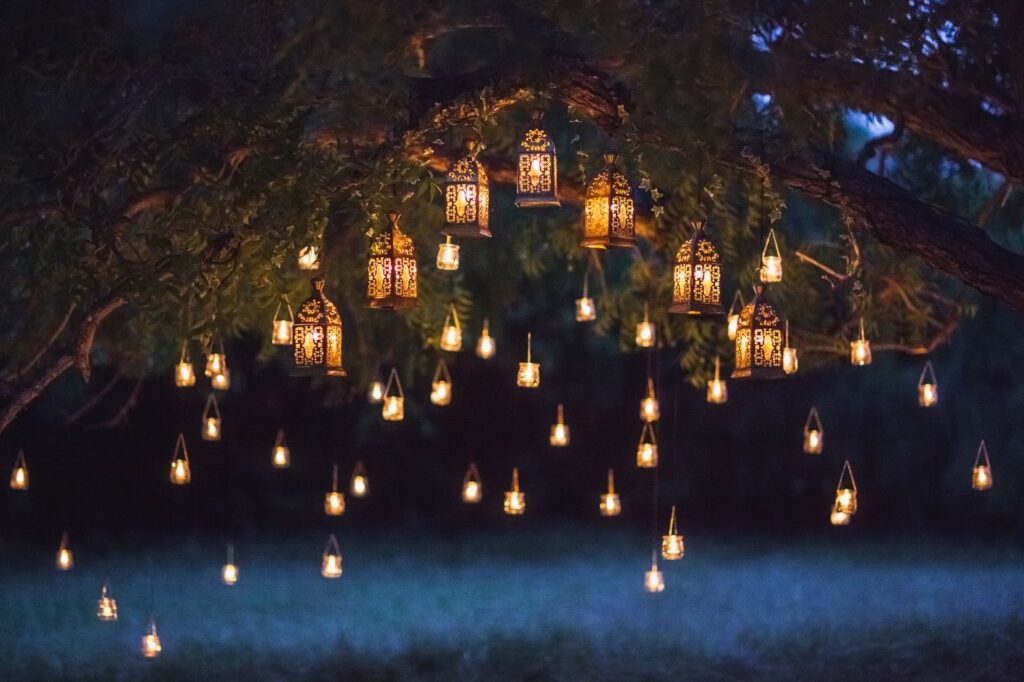 Is there anything more romantic than a little candlelight?
Well, if you're having a dusk wedding, you'll have more than a little candlelight.
(Which can only mean more romance).
Make up for the lack of natural light with your own light by having elaborate candles lining your aisles or decorating your reception tables.
Of course, you'll have to be careful dealing with all that fire!
You'll Have Better Outdoor Weather
There's nothing romantic about sweating in your fancy clothes or worrying about the heat.
Luckily, with weddings at dusk, that problem doesn't even exist.
Overall, dusk and evening weddings have much cooler temperatures which will make outdoor ceremonies and receptions more agreeable for your guests..
Leave all the sunblock at home!
You Have All Day to Get Ready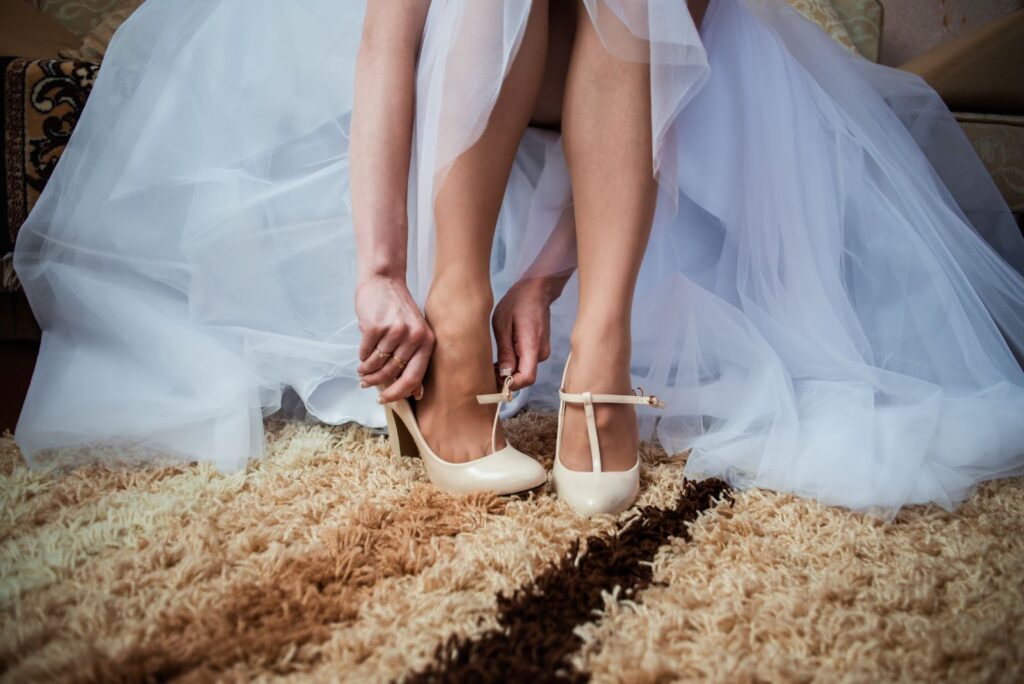 Sometimes, for daytime weddings, you're up at the crack of dawn in order to start preparing.
Luckily, if you're getting married at dusk, you can sleep in and start getting ready a little bit later.
(And if you're an early bird, since you've got all day, that just gives you even more time to get everything just right.)
Plus, waiting all day to see your future spouse will only build up the anticipation for when you do finally meet.
Just imagine those first look photos!
Frankly, Weddings At Dusk Are More Unique
If you really want to set apart your wedding, then it's definitely a good idea to get married at dusk.
It's a known fact that most weddings happen during the daytime.
And while daytime weddings can be beautiful and enjoyable and have their own special charms, a dusk or nighttime wedding is far less common.
Trust us, your guests will be happy to have a change.
You and your spouse can start your marriage off right by marching to the beat of your own drum.
Unique Ideas For Weddings At Dusk
Like we said, getting married at dusk is already pretty unique.
However, there's always room for adding your own personal touches.
How shall you decorate and make the most out of this special time or day?
(Or shall we say special time of night?)
Don't worry, because we've got you covered.
Here are a few unique ideas for your dusk wedding so that your personality as a couple can shine through.
Light Up the Night With A Disco Ball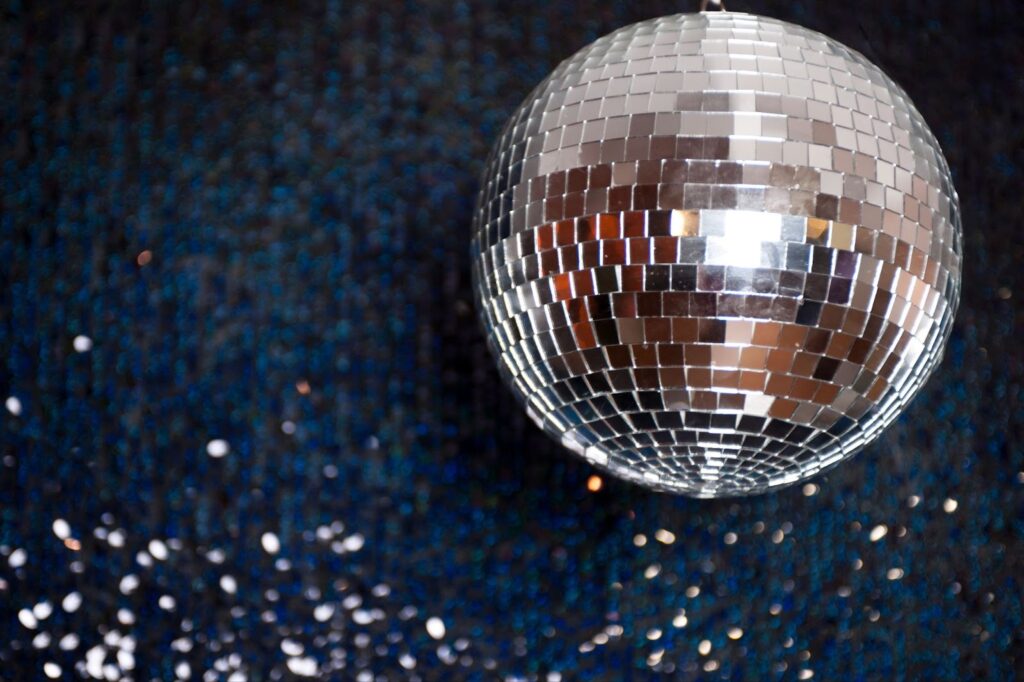 We already suggested using candles as a substitute for natural lighting.
But of course, it doesn't end there, and there are tons of other fun lighting options!
For example, fairy lights are a popular wedding decoration, but if you really want to go big, we suggest a disco ball.
Disco balls are simultaneously retro and timeless, and it'll really encourage your guests to get in the partying mood.
Say Your Vows Under the Stars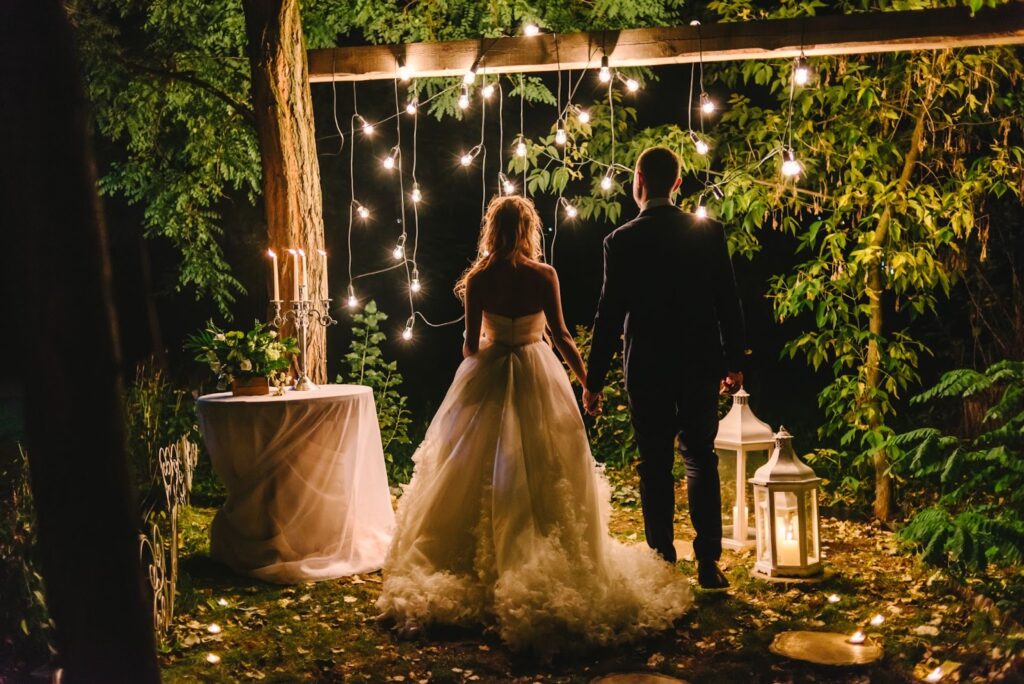 Just because you aren't having a daytime wedding doesn't mean you have to move the festivities indoors.
The dusk brings a meditative stillness and peacefulness that makes for the perfect atmosphere for this most important moment.
Nature has its own special magic when the sun goes down that will only contribute to the memorable, romantic atmosphere you want to produce.
So go ahead and have that nighttime alfresco wedding!
Embrace the Metallic Color Palette
Just because it's dark outside doesn't mean you can't add some pops of color!
Silvers, bronzes, and golds can definitely look like clashing, over-the-top colors if you're getting married during the day.
However, after dark, a metallic palette makes for an eye-catching color scheme.
Take advantage of these unique wedding color palettes and incorporate metallics into your decorations, and maybe even your wardrobe.
Get Cozy by a Bonfire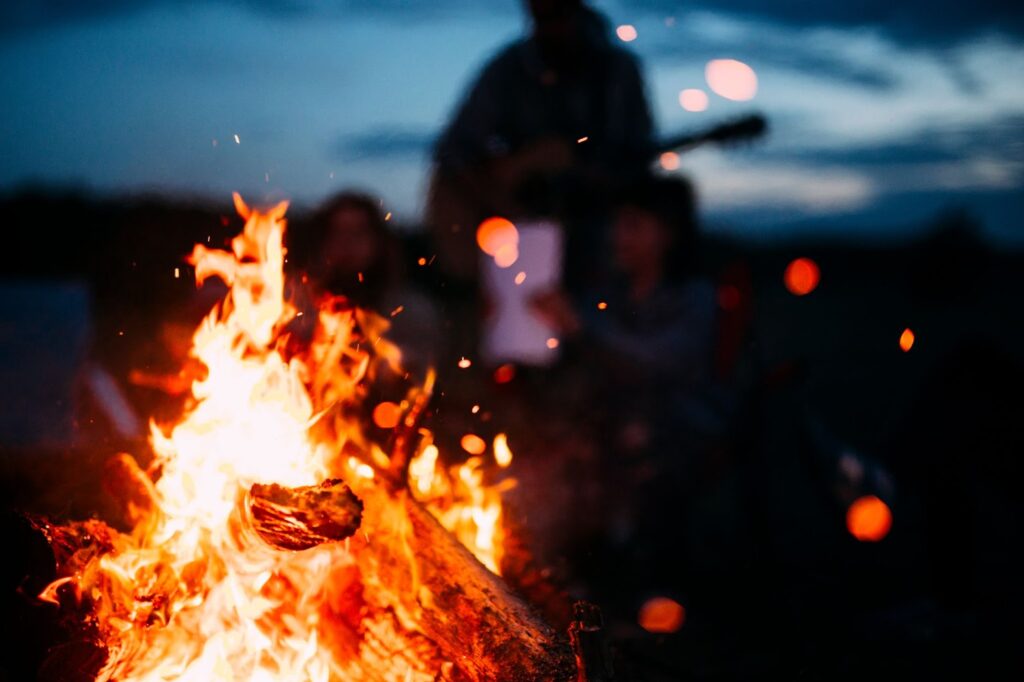 We already went over the romantic benefits of having candles replace the natural lighting for your wedding.
But we have another fire-based suggestion you can use for lighting up your reception that you definitely don't see every day: a bonfire!
Besides keeping you and your guests warm, a bonfire makes for a great focal point for wedding photographs.
You can also place your seating around the bonfire for a cozy, intimate atmosphere, and even roast some s'mores for dessert!
Fill the Sky With Lanterns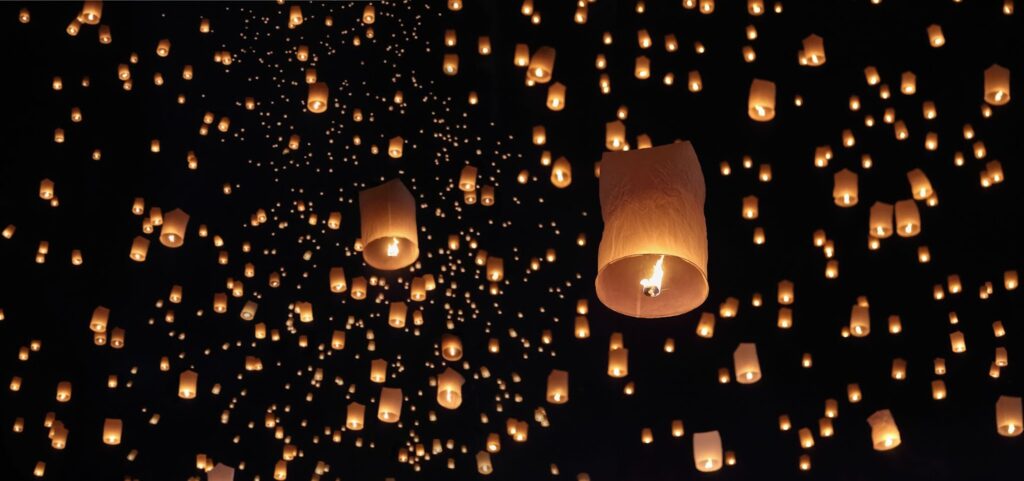 Finally, we have a way for you and your guests to create your own kind of light.
If you've ever seen the movie Tangled, you know how romantic and special lanterns can be.
As a way to end your ceremony or reception, you and your spouse can send a lantern into the sky as a way to commemorate the start of your marriage.
Or you can even hand out lanterns for everyone and have this be a way for all of your guests to participate. The more the merrier.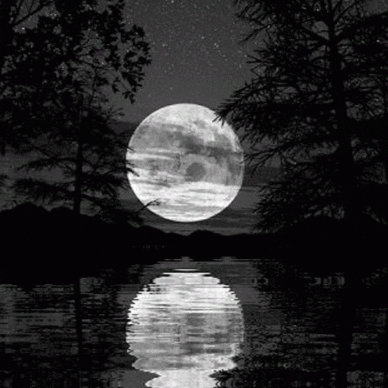 Our Final Thoughts
As we reach the twilight of this list, let's round up what we've discussed.
Weddings at dusk are elegant, have lovely temperatures, and capture a romantic atmosphere that you can't just get in the daytime.
And there are tons of unique ways you can customize your dusk wedding to reflect your identity as a couple.
There's no better way to get married under the stars than right in the middle of nature, for example, in a mountain mansion.
At SugarHollow, we know all about unique weddings and knocking your guests' expectations out of the park.
No matter the hour, we are here to help you plan the mountain wedding you've always dreamed of.