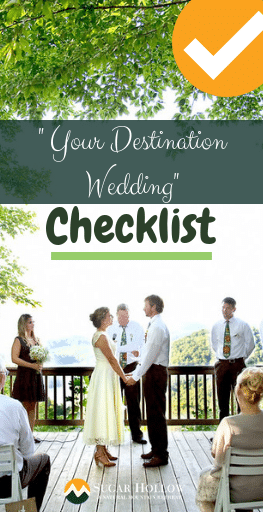 You said "yes" and the ring is on – but now what? With so many tasks to take care of and details to arrange, planning your perfect destination wedding may seem pretty overwhelming. Luckily if you give yourself enough time and double check this handy-dandy checklist, your job can actually become fun and less stressful. Here's what you need to do.
1.) Devise A Budget
First thing's first – how much is your dream destination wedding going to cost? Before you start anything, you have to figure out who's paying for what and determine what is your max budget. From there, you need to prioritize – what's a necessity? What isn't? (A spreadsheet may be needed.)
Staying organized in this initial step will help you keep track of your spending and make it easy to adjust numbers along the way.
2.) Make A Guest List
Ideally, you'd want everyone on your list, right? Chances are, you can't, which is why you have to put a lid on the number of invitations. When deciding how many people to invite, consider your budget (how many can you afford to have?) and your venue (how many people can you accommodate?). From there you can start creating your dream list, for your dream destination wedding.
3.) Hire A Wedding Planner
If it's in your budget – or if your peace of mind depends on it, get yourself a wedding planner. They will be your personal aid during all of this and will guide you in all decisions, from selecting a venue to tracking your budget and handling logistics.
4.) Select The Venue
Can't have a 'destination wedding' without a breathtaking destination, can you? Seriously, choosing the venue is one of the most important decisions you'll make as a bride/groom. It affects almost everything, from how many people you can invite to what kind of flowers go on the tables.
Luckily for you, Sugar Hollow has everything you need to host a grandiose wedding. Accompanied by the Appalachian Mountains, it has the landscape and facilities to accommodate your special occasion.
5.) Create A Wedding Website
Put together a simple (yet elegant) site. It's a perfect place to keep your guests informed and updated on any changes or details like accommodation info.
6.) Invitations
Want to 'wow' your guests – start with the wedding invitations. This is where you put your best foot forward and give everyone a personalized preview of your stunning destination. If you're going custom, work with a graphic designer to create your cards. Otherwise go hands-free and wait until the six-month mark. (Invites are sent out six to eight weeks prior to the big day.)
7.) Buy Your Wedding Dress!
It is a destination wedding after all. So think about the climate when picking out your wonderous dress. (Side note: To avoid the rush, don't go through too many dresses before choosing 'the one'.)
8.) Pick Out The Cake
Two individuals are getting married, therefore, two people should be selecting the cake. You and your partner should agree (or compromise) on a look and flavor profile you both love. This is your cake as a couple; it should express both of you.