25 Apr

Top 6 Activities for Your Youth Retreat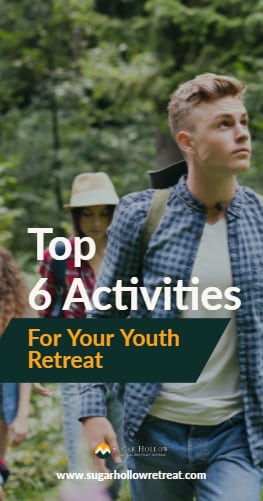 What better way to guide the spiritual growth of your young ones, than a youth retreat? It helps them get away from daily distractions and focus their energy on spiritual matters. Not to mention when a group takes time out for some spiritual refreshment, the whole church benefits. It's a win, win!
Planning these youth retreats do take some time, with all the decision-making and budgeting that must be done beforehand. But once that's out of the way, it's time to think about what to do once you get there. There lies the dilemma. Luckily, we compiled a list of 20 different activities, perfectly suited to challenge and enrich your youth group. Enjoy!
1.) Blindfolded Obstacle Course
This fun obstacle course game is a perfect trust-building exercise for your youth retreat. You'll need to set up a basic course and break the group into pairs – having one player from each team blindfolded. They must then wiggle through the obstacle course guided only by their partner's voice. Once they've reached the end, they can switch places.
2.) Bible Scavenger Hunt
Nothing says 'youth retreat' like a friendly scavenger hunt, right?. All you need to do is equip your groups with a bible and a list of verses. The catch…there's one word excluded from each verse. So it's up to them to find the missing word and locate the item.
Example:
Deuteronomy 32 – Let my teaching fall like rain and my words descend like dew, like showers on new _______________, like abundant rain on tender plants. (Grass is the missing word.)
3.) Hula Hoop Relay
Another instant classic! Start off by dividing the group into two teams, then having each team join hands to create a circle. You begin the game by putting one player's arm through the hoop. Then without letting go of the other player's hand, they must maneuver their way through the hoop so that it now rests on the other arm. Once they slide it onto the next player's arm, that player must then repeat the same moves…and so on and so forth. The team that makes it around the circle without ever letting go of each others' hands, wins.
4.) Penny Chins
This is a great mini-game to kickoff your youth retreat. The only materials needed are some pennies and silly participants. Begin by handing out pennies to the entire group. The players will face up and balance the penny on the chin. The simple objective of this game is to knock everyone else's penny off. Last man/woman standing, wins! 
5.) Glow Stick Tag
Only requirements: glow sticks, large open area. This new take on a classic game is perfect for the evening. It's essentially the same rules. One player is designated "it", and must wear two glow stick wristbands. Everyone else wears one. And when a player is tagged, they acquire the glowing wristband and they are now…'it'!
6.) Evening Worship
A spiritual retreat isn't a retreat without some prayer and worship, right? Sugar Hollow's Whitetail stage gives you and your youth group a perfect spot for those evening prayer sessions. With outlets for speakers and music, you can incorporate a more contemporary feel to those worship services. Time to dance, sing, and celebrate life.
Now that you have a few activities to get you started, you're ready to host your next youth retreat. All you need is a prime location. Luckily for you, Sugar Hollow offers 300 acres of pristine wildlife for you and your church family. Book a trip today, and bask in the beauty of God's green earth!