09 May

A Hiking Gear Checklist: Day Hike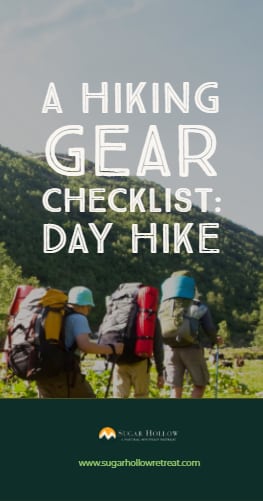 Most hikers will pack a bologna sandwich, a bottle of water, and maybe some sunscreen. But not you-you came to sugar hollow with a mission. Tackle the Appalachian mountains! So, first things first, you're going to need a hiking gear checklist. A helpful list of items to have you crush your next day hike. Here you'll find the essential things needed to take on the Appalachians and prove yourself as a 'trail master'.
Proper footwear
Starting from the bottom up – you're going to need a pair of lightweight hiking boots. It should be the first item you mark on your hiking gear checklist. Your feet are the ones taking you on this journey; therefore they should be the priority during your day hike.
Hiking socks (wool, polyester, nylon)
It's simple. If you take care of them, they will take care of you. The best protection you can get (along with proper shoes) for your feet are a good pair of hiking socks. Nothing protects your feet from sweat, blisters, and fatigue like a pair of quality wool hiking socks.
Convertible hiking pants
Since the weather does dictate most of your outdoor clothing options, it's best to choose something that can be altered to fit the atmosphere. With convertible hiking pants, you get the best of both worlds. Full protection from the elements – then with one pull of a zipper, the freedom to move about. No cloth rubbing against your calf, no pant legs getting caught on a rock.
Long sleeve / short sleeve hiking shirt
Something to consider for your day hike – the higher elevation of the appalachians is typically colder and windier than the valley, so going with a long sleeve shirt you can just roll up, is definitely the way to go. (plus you have style options.)
Backpack / day pack
If we're talking essentials – a backpack is a must for any hiking gear checklist. A lightweight hiking backpack or compact day pack should do the trick. Just something to haul around all your gear.
Water bottle
Making sure you're hydrated throughout the day is key. Bringing a water bottle (preferably filtered) with you on your hike means you won't be calling it in early. You'll have the energy to make it through your whole day hike.
Sunscreen
Your long sleeve can only cover so much skin. Therefore, you're going to need some protection. Get you some sport protection sunscreen and have your face safe from the elements.
Compass / map
Another hiking gear checklist essential! Avoid getting lost during your day hike, and bring a compass/map. Nothing worse than trying to re-track your steps with zero apache blood in you. (don't rely heavily on gps – remember maps don't glitch or restart randomly.)
Fuel (food)
It's going to be a long day of hiking, trekking, and possibly climbing. Make sure you bring a healthy supply of food to keep you going. Granola bars are ok, but if you need more substance, grab some jerky or smoked sausage. It will provide you with more energy during your day hike.
Multi-tool knife
Try to find a knife with as many tools as physically possible. The two main things you're looking for, are a blade and a flint (to start fires). It makes for a very helpful companion when you're deep within the appalachian mountains.
Other recommended items
Trekking pole
Headlamp
Rain jacket
Rain pants
Insect repellent
Toilet paper
Medical kit