12 Dec

Santa in the Smokys: 7 Reasons to Have a Smoky Mountain Christmas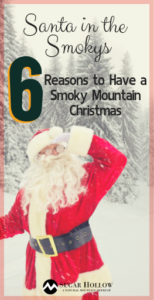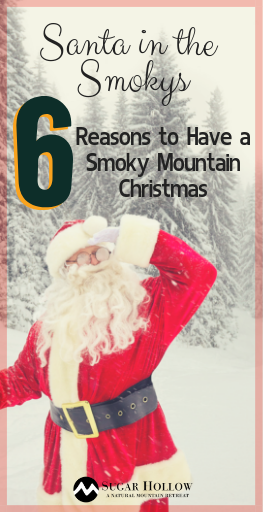 Just over 107 million Americans travel for Christmas each year. And if you're still trying to decide where to go – why not have a Smoky Mountain Christmas?
This beautiful area, spanning through both Tennessee and North Carolina, isn't just for nature lovers. There's truly something for everyone there; it will make your family Christmas one for the books.
If you've not previously considered the Smoky Mountains, or you're still on the fence about going, let us convince you. It's not just a summer destination.
Read on for some of the top reasons why we think you'll have a blast spending the holidays with us.
1.) You'll Have a White Christmas
Are you dreaming of a white Christmas? Well, time to stop dreaming and make it a reality. While it can snow in the Smoky Mountains, it's not guaranteed. But you can still enjoy manmade snow at Ober Gatlinburg.
With snow machines, you'll be guaranteed to at least see some of the white stuff. the park also allows you to go skiing, snowboarding, and even offers lessons for those who aren't yet confident in their skis.
Whether you decide to join us before Christmas or in between Christmas and the New Year – this will be a day together you and your family will never forget!
2.) Visit Dollywood
Located in Pigeon Forge, Tennessee, Dollywood is an amusement park for the entire family. Owned by, you guessed it, country legend Dolly Parton – it offers 150 acres of good, clean, family fun.
You can take a whirl on one of the several roller coasters, or wind down one of the slower paced rides. Dollywood was also one of the first amusement parks to offer special rooms for children with autism This means even though they busy park has the potential for a sensory overload, your child will have a quiet place to duck away.
Visiting Dollywood at Christmas time is a special experience, as you'll get to see breathtaking lights, and your children can meet Rudolph and his pals at the annual Christmas parade.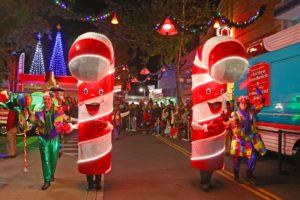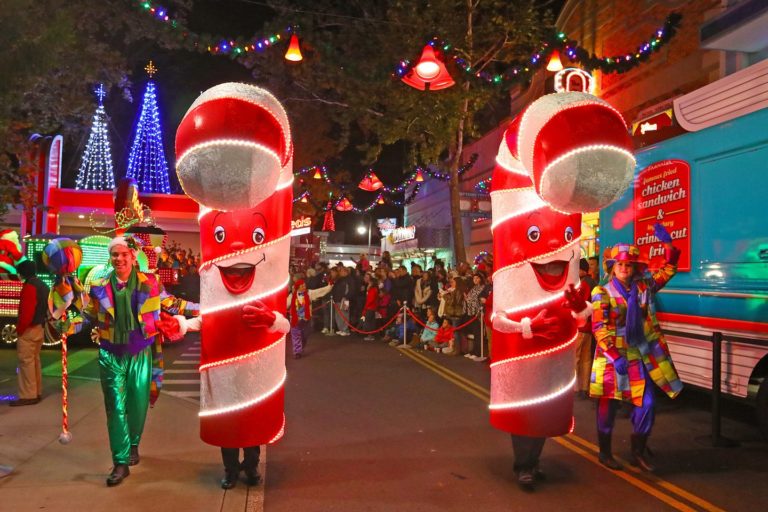 Photo: Dollywood
At night, Dollywood's lights synchronize with music for a special Carol of the Trees experience. Actors even perform a unique twist on the season's classic, A Christmas Carol!
3.) See The Christmas Lights From up in Space
Okay, so the Smoky Mountains don't have special rights to a space shuttle or anything, but they do have their very own version of Seattle's Space Needle: the Gatlinburg Space Needle. With a viewing deck 402 feet in the air, your family can see the Christmas lights in Gatlinburg for miles around.
This is the perfect way to enjoy some holiday magic!
4.) See a Smoky Mountain Christmas Show
The Smoky Mountains are where country music thrives, and the traditional shows that take place throughout the year get a Christmas twist nearer to the holidays.
Each year, venues will hold their own unique holiday shows, but the regulars will also have a touch of Christmas magic. Spen a night at the Opry, at Dolly Parton's Dixie Stampede, with the Hatfield and Mccoy's or at Biblical Times.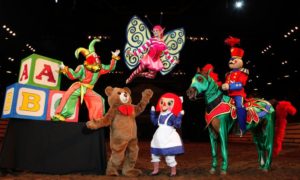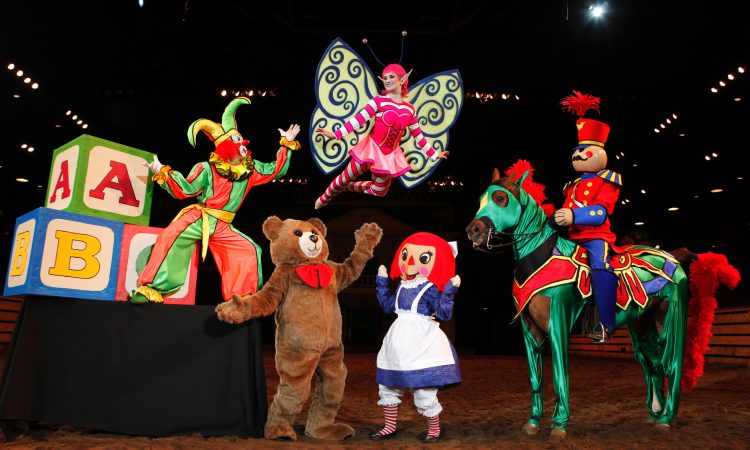 Photo: Reserve Branson
A few of the shows, like the Hatfield and McCoy and Dixie Stampede, offer you dinner while you see the show This way, you won't have to worry about grabbing a bite to eat before the big night. Simply munch along while you're entertained by some of the best in the business!
5.) Drive Through Shadrack's Christmas Wonderland
Located just 45 minutes from the heart of the Smokys is Shadrack's Christmas Wonderland – a truly unique experience for the whole family. Currently, it holds the title for being the world's largest synchronized LED Christmas light show. And, you don't even have to get out of your car. It's a drive-through!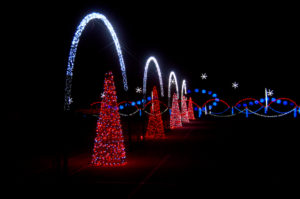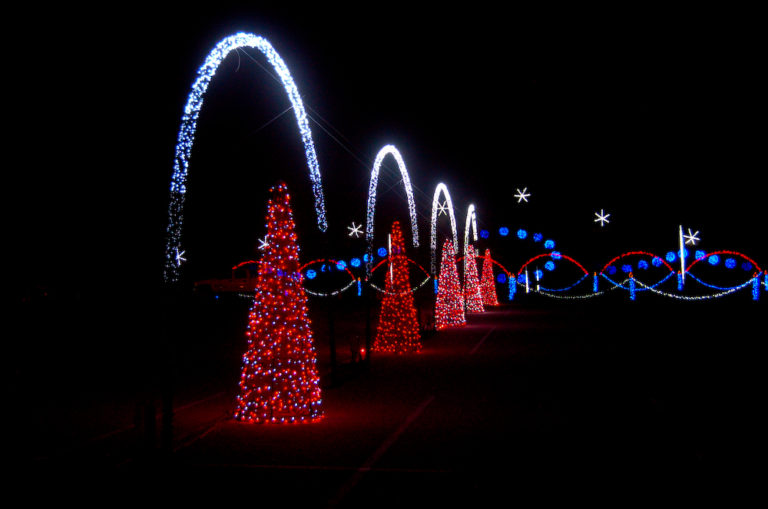 Photo: Shadrack Christmas Wonderland 
Be treated to over 300,000 synchronized lights with coordinated Christmas music as you stay warm in your car. Tickets are usually priced at $20 per car, and you'll buy them as you enter.
If you'd want to get out and burn off some energy, you can take your kids to the Christmas inflatables area, which looks like a Christmas village. For an extra fee, you can visit Santa and ride camels and ponies.
6.) Visit the Christmas Place
What could be more Christmassy than visiting an entire shopping village devoted to the holiday?
Christmas Place features dozens of themed Christmas trees, toy trains, and adorable Christmas stores. It's a perfect one-stop-shop to get all of your Christmas decorations – especially if you're away from home and still want to decorate.
Or, just meander through the village with a cup of hot chocolate and enjoy the decoration and Christmas magic.
7.) Eat Some Pancakes
Wait – what do pancakes have to do with the Smoky Mountains?
If you're familiar with the area, you'll know Gatlinburg, Tennessee is famous for its pancakes. And what better way to celebrate the holiday season than a serving of gorgeous, fluffy pancakes and a helping of butter and maple syrup?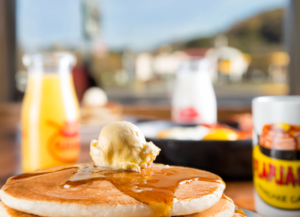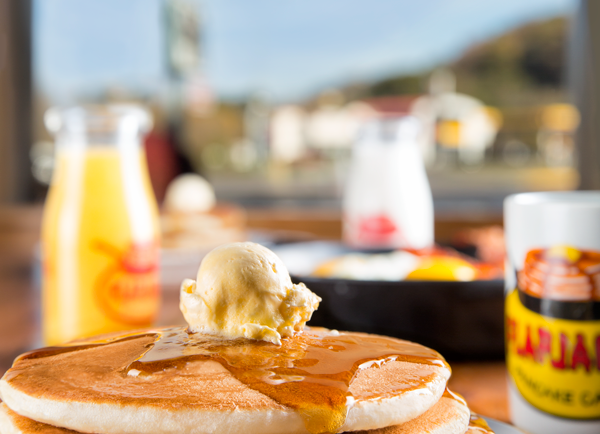 Photo: Flapjack's
Your holiday won't be complete without at ONE pancake meal!
Ready to Book Your Trip?
There are so many amazing things to do in the Smoky Mountains over the festive period that we have barely even scratched the surface.
Click here for a list of even more amazing activities you and your family can experience while you're having a Smoky Mountain Christmas. Whether you want to relax or be active and on the go, they'll be something for you here!
Ready to book a trip now? Click here to reserve your magical lodging today! Your family will be talking about this epic vacation for years to come!