20 Jun

5 Tips for Planning A Summer Festival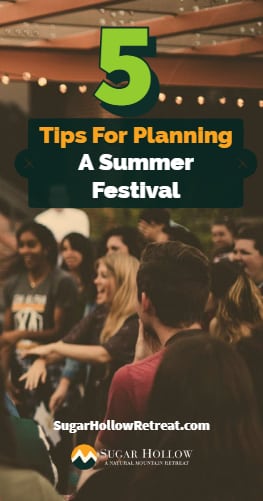 Summer is in full effect and festival season is underway! It's time to bring people together with the only way you know how – sun, music, and responsible alcohol consumption. However, preparing your large-scale summer festival is no simple feat. With hundreds (possibly thousands) of attendees, it's best to be prepared for anything.
Here are some helpful tips for planning your next summer festival:
Spacing Is Key
So, depending on how many stages you plan to set up, the spacing is very important. You need to make sure there is plenty of open space for your adoring attendees. Factor in backstage areas, portable bathroom facilities, and of course camping (it is the Appalachians after all.)
Best way to accomplish all this is to create an efficient layout for your event. This means being aware of your maximum capacity and creating a happy flow for your people.
Provide Security and Keep it Safe
Keeping your festival safe and secure should be your number one priority. After all, your attendees aren't only paying for good music; they're paying not to get trampled by crazed fans.
To increase the safety of your summer festival, contact local authorities (medical & law enforcement) and let them know you're hosting a festival. Therefore, they're onsite if something happens.
Keep Everyone Hydrated
This seems like a given, but if you care about the well-being of your attendees and staff – keep everyone cool and hydrated. It's a summer festival. Provide guests with as many water options as possible.
Here are a few, so nobody passes out:
Refillable water stations
Water sponsor (have them donate for your event)
Give out a refillable water bottle at the entrance
Give out plastic spray bottles (nothing like a spritz of fresh water to cool down)
Age-Friendly Activities
It's summertime and kids are out of school, what better time to incorporate family fun than a summer festival? When you're planning your event, be sure to include some activities for the little ones (even if the festival is focused towards adults.)
Put together a few booths or stations for the kids. If you make it interactive, they will have just as much fun as the adults. (Think arts & crafts.)
Big Artists Need Big Budgets
Plan wisely when it comes to choosing your entertainment. If you are hosting a grandiose festival, you better have a grandiose budget to work with. It's best to spread your wealth throughout your festival. For example, if you spend most (or all) of your budget on one act, you're going to have a tough time keeping your attendees entertained throughout the evening.
Best way to balance your summer festival – throw in some local bands, unsigned artists, and lower list performers.