02 May

5 Tips For Planning A Successful Family Reunion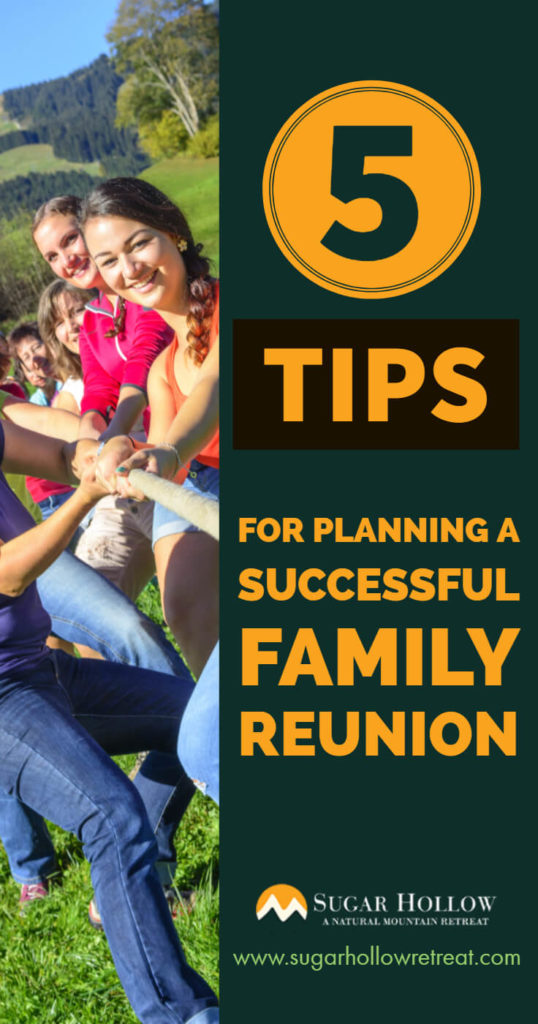 Whether you have a handful of cousins or inviting a couple hundred relatives, planning a successful family reunion is no easy task. From tracking everyone down to organizing the accommodations, it takes quite a bit of know-how to put together a multigenerational family reunion. So, to get you started, here are few planning tips that will help provide a fun (non-stressful) experience for you and your family.
Plan, Plan, Plan
This seems like a no-brainer, but you have to plan ahead. No successful family reunion has ever been arranged sporadically.
Start off by picking a date and a location – preferably 12 months in advance. This gives you time to round up 'the crew' and allows them to plan around an unmoving target.  Scheduling around everyone's hectic….schedule, is half the battle. But if you can nail this aspect, you're a step closer to a successful family reunion.
Team Assemble
Not even Superman could single-handedly prepare everything that goes into a family reunion. It's time to assemble a team and delegate some tasks, if you want this thing running smoothly.
Depending on the size of your family gathering, you'll need a few volunteers. (Obviously, larger families require more volunteers – possibly a committee.) Here's a list of fancy titles you can give your team:
Food Director – In charge of all things food. Catering, potluck, & making sure grandma brings her special potato salad.
Lodging Liaison – In charge of finding accommodations, lodging discounts, etc.
Reservation Officer – They track who's making it on 'the list'.
Finance Director – All events need a budget. This is no different. This person maintains the budget and keeps track of family reunion purchases.
House > Hotel
The whole purpose of a family reunion is to bring people together. To provide an intimate environment for family bonding and a great ole time!
Therefore, it makes more sense to book a house. It's the perfect option to stick together, but also spread out. Plus, with a house, you have all the useful amenities like laundry and a full kitchen. (It comes in handy when dealing with everyone's different dietary preferences.)
A Family Reunion FOR ALL
Be sure to include activities for everyone. It's best to mix it up, and include activities for all ages and interests. If you need some inspiration, Reserve America has plenty of great game ideas and fun stuff for you to try out.
For the kiddos, aim to combine indoor and outdoor activities. For the adults – they wouldn't mind some down time. A family trivia game night perhaps?
Relax, It's a Family Reunion
Pretty self-explanatory. It's a family reunion after all, and we know you want it to go off without a hitch. With that being said, don't get hung up on structure. Family togetherness is key, but it's not the ONLY thing. Allow for everyone to do their own thing if they'd like. Parents might just want some down time as the kids run around.