31 May

5 team building activities for your next corporate retreat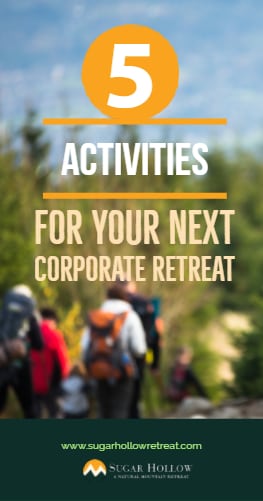 People often overlook the benefits of a corporate retreat. They think it's just another excuse to run off with your team and…not do work. However, the truth of the matter is, retreats are designed to be productive (or at least semi-productive) field trips. They offer an excellent opportunity for teams – creating a safe/fun space to build strong connections with your colleagues. Now, all you have to do is throw in some fun team building activities, and you have all the ingredients to host a successful corporate retreat.
Here are just a few to get you started:
Team disc golf (aka frisbee golf)
Luckily you don't have to be part of the PDGA (professional disc golf association) to play disc golf. All you need is an energetic team of professionals and a 9-hole course. It's played the same way; whereas you try to finish each hole with the least amount of throws. Only difference – you use a frisbee instead of a 9-iron.
Friendly canoe race (emphasis on 'friendly')
Nothing like a little friendly competition amongst the sales team right? Grab some paddles, life jackets, and head out to the lake! It's a great team building activity. Simply split your team up into two (possibly three) groups, and prepare for a straight head-to-head race across the water. Remember, it's a race, keep it fun and friendly.
Appalachian treasure hunt
Nothing says 'team building' like getting together for some creative problem-solving. Kick off your corporate retreat with a fun treasure hunt within the appalachians. Just create a map-based puzzle for your team and have them work together to find the 'treasure chest.' this activity is great because it mimics the dynamics of a workplace – where a team must collaborate to achieve a common goal.
Iron chef Tennessee (cook-off)
Attention culinary school dropouts: now is your opportunity to showcase your illustrious cooking skills. Hosting a corporate retreat version of iron chef: america is a fantastic team building activity for your company. It brings together two very important things: food & teamwork! (plus as the host of the cook-off, you can assign yourself as the judge!)
Hike as a team, grow as a team
When it comes to team building activities in the appalachians, hiking is a must. Nothing grows the strength of your team like trekking through the smoky mountains or using teamwork to climb up that cliff (that metaphorically can be used as a 'climb to success.') if you can accomplish a hike as a team, there's no telling what you can accomplish in the corporate world.
Pick a destination!
Now that you have some inspiration for your next corporate retreat, it's time to book a lodge (conveniently placed at the base of the appalachian mountains.) Sugar hollow provides everything you need to host a successful retreat. Along with warm, inviting accommodations, it's equipped with 300 acres of pristine wildlife – all the room you need to have a blast!
To learn more about sugar hollow and corporate retreats visit: www.sugarhollowretreat.com.