25 Jul

5 Reasons You Should Have Your Corporate Retreat At Sugar Hollow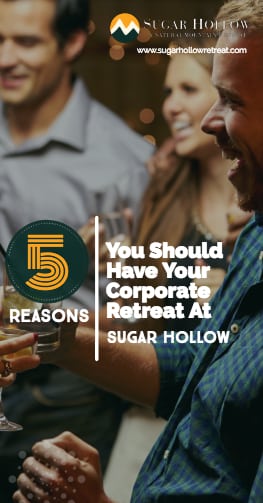 The Sugar Hollow Retreat in Butler, Tennessee is the perfect place for your next corporate retreat. In addition to being THE top spot for a Smoky Mountain dream wedding, it also provides your worker bees with a great place to host your corporate retreats. Meetings and mountain biking – that's what it's all about.
Whether you're awarding your sales team with a well-earned gathering or you and your executive team need a nature-filled weekend of work and play, Sugar Hollow has got you covered.
So, before you go throwing money at a luxury resort in The Hamptons, consider these reasons why Sugar Hollow is an ideal destination for your next corporate event. So you're in good company if you bring your company team to us.
Natural Beauty Meets Corporate Retreat
Let's be honest, it's difficult to compete with the stunning landscape of the Smoky Mountains. One day of trekking through one of its many trails, and your team will never want to leave. The refreshing air and green, open forestry – it will have you and your team feeling renewed and rejuvenated. Besides our breathtaking natural surroundings, we can keep you and your team comfortable while you're here.
Classic Accommodations Meet Modern Amenities
Along with stunning views at every turn, Sugar Hollow takes you back in time while keeping you connected to your world. If you're worried about a rustic place like Sugar Hollow lacking the necessary tech to handle your semi-productive corporate retreat – think again! Sugar Hollow offers everything from full Wi-Fi in all the lodges and complete audio/video equipment in their 1,200 square foot conference facility. It's the best option for when 'relaxation' is a must but 'productivity' is optional. In addition, Sugar Hollow is downright cozy.
Warm & Cozy Accommodations
A corporate retreat needs to be relaxing above all else. And after a day of hiking, biking, and exploring the mountains, Sugar Hollow has you taken care of. It combines the rustic feel of the outdoors and richness of their modern-day amenities. It's the ideal place for you and your team to kick your feet up and enjoy nature. Time for some well-earned R&R. So keep reading to see what you can do here in the mountains.
Activities in The Appalachians
In addition to our indoor offerings, Sugar Hollow has 300 glorious acres of wildlife. That's a 300-acre playground for you and your team. Nothing says 'camaraderie' and 'teamwork' quite like trekking through the mountains or canoeing down Watauga Lake. It's time to put the spreadsheets down and host a corporate retreat your whole team will enjoy.
Here are a few more team building activities:
Fishing
Hiking
Mountain Biking
Team Bonfire
Outdoor team sports (Frisbee golf, volleyball, etc.)
A Team That Cooks Together, Stays Together
One of the many modern amenities that Sugar Hollow has to offer, is our classy kitchens. Fully stocked with kitchenware and cookware, your team can now plan your breakfast, lunch, and dinner. Or host a competitive cooking show, up to you.
Fact: You can't have a successful corporate retreat without food.