24 May

5 Reasons to Book Your Romantic Vacation in the Appalachians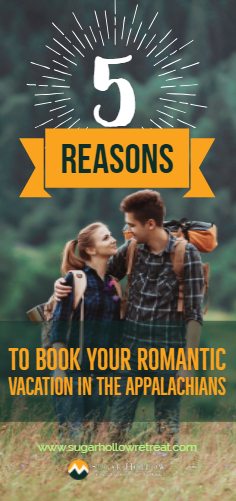 Between the hectic work schedules and weekly parent-teacher conferences, it's challenging just to sit still and enjoy quality time together. But as a couple (a team), you both have earned that long-awaited romantic vacation. It's time to book a trip and enjoy that alone time you've both been desperately craving.
Luckily for you, the Appalachian Mountains provides an ideal location – a small sliver of heaven for both you and your loved one. It's a nature lover's dream destination! So, to help you see the splendor of the outdoors, here are the top five reasons to book your next romantic vacation in the Appalachians. (You're welcome in advance.)
1.) Majestic views (obviously)
Obviously, this would be at the top of the list. Nothing can compare to rolling out of bed in the morning and being greeted by the breathtaking view of the Appalachians. It's among the most beautiful destinations in the world, and if you bring your camera, you can capture it all.
We recommend going for a hike/walk right before sunset. Nothing says 'romantic vacation' like the orange hue of the sun just over the horizon. And as the sun goes down, you're left with a spectacular view of the Appalachians – it's something you'll never forget.
2.) Nature is your playground
Just you, your loved one, and the Great Smoky Mountains! What could be better?
Doing things together is one of the best parts of going on a secluded, romantic vacation. There is no shortage of adventure in the Appalachians; you'll find yourselves enjoying nature and (most importantly) enjoying each other.
Couples activities:
Canoe down Watauga Lake
Hike/Trek up the Appalachian Trails
Bonfire at sunset
Horseback riding
Picnicking
Whitewater rafting
And SO much more!
3.) Quality together time
It's so important to spend quality time with your loved one (this is especially true if you're married.) Dinner dates and nights out are great, but nothing beats the serenity of the outdoors. A small trip to the Appalachians is a great way to mix it up. It creates a more meaningful experience for you both.
Turn off your phones, roast some marshmallows, and listen to the wind howl. You'd be surprised how deep of a connection you can create just by enjoying the peaceful wilderness.
4.) Rent A Cabin
What better way to say, "I took a romantic vacation in the mountains" than by renting a cabin/lodge? It's the most mountain-y thing you could do. After a long day, full of adventure and exploration, it's the best way to unwind with your loved one. Kick your feet up by the fireplace and enjoy a glass (or two) of wine.
There's something about a cozy cabin in the woods that just says, "intimacy."
5.) Create Memories
Create memorable moments. Build moments that will have you looking back at them like, "Remember that time we…" Try to experience everything the Appalachians has to offer and create things you didn't know it COULD offer. It's your romantic vacation. Make it worthwhile.