11 Apr

5 Benefits of a Corporate Retreat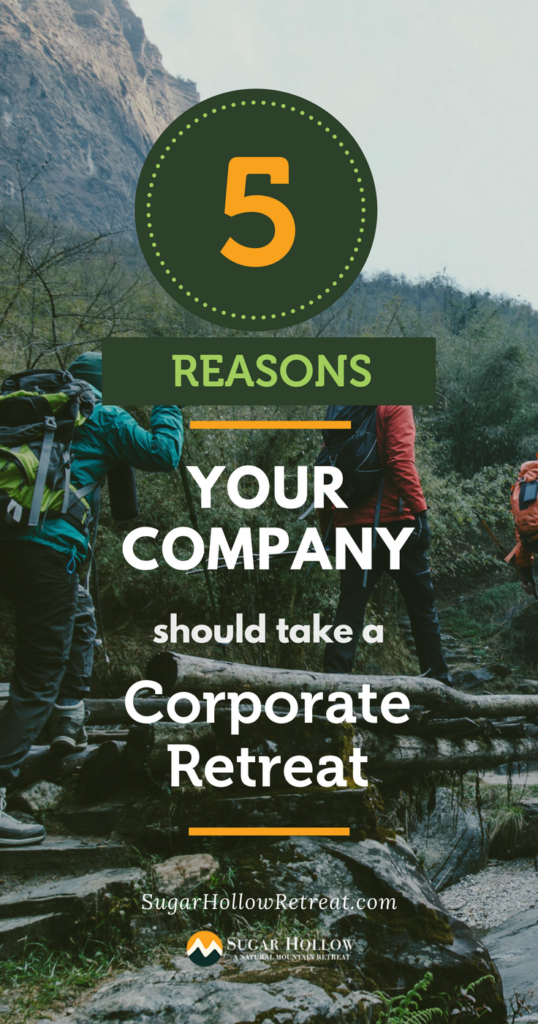 What better way to mix work and play than to go on a corporate retreat? Whether you're taking your executive team on a "business" trip, or you're rewarding your top sales team with a little down time – corporate retreats offer a healthy option for your company. They provide you and your team with the escape you need from those suits and ties. And with all the benefits, it's no surprise top companies are setting time aside for these team excursions.
Connect With Your Team
Corporate retreats offer the unique benefit of bringing a team together – without the congestion of a closed office space. To truly experience team-building, you need the great outdoors. The smell of fresh air. It gives you everything you need to promote a positive culture and bring your employees closer.
As you relieve the pressures of hectic work schedules and pesky deadlines, you provide your team the chance to open up. A chance to have fun and form everlasting bonds with one another. Corporate retreats offer the best opportunity for fun & camaraderie.
Fresh Perspectives
A stuffy office just doesn't cut it when you're trying to conjure up fresh, new ideas. It doesn't breed creativity or innovation. Luckily with a corporate retreat, you're able to brainstorm as a group in a relaxed atmosphere outside of the office. The outdoors provide your company the best setting for idea creation. Giving you open areas for free thought and hopefully your next big project design.
Perform Well, Reward Well
Raises, benefits, and recognition are all excellent ways to show your employees how much they mean to your company, but you should think about getting them out of the office every once in a while. Corporate retreats offer a great way to reward your employees and show your appreciation.
On top of that, it's an excellent chance for your employees to bond in a non-office environment – which makes them better coworkers. This investment in your employees is what brings about a strong team.
Realign Your Goals & Objectives
Sometimes it takes some outdoor adventure to stir up the company mindset and have your team moving in the right direction. Corporate retreats bring unity to your business. Making sure everyone is moving in the same direction to achieve the right goals and objectives.
The outdoors make for a great 'office space' to bounce ideas around and discuss business decisions. Nothing like gathering around a bonfire to talk about the future of your company.
Location, Location, Location
Before any of the fun begins, you're going to need to find a prime place for your corporate retreat. Location is everything when it comes to these. It has to be suited for a group of successful business people – fully equipped with facilities, accommodations, and plenty of land for team-building activities.
Sugar Hollow Retreat offers the ideal destination for your corporate retreat. With the pristine Appalachians guiding your team towards success, there's no telling what you can accomplish.